The winner of the Environment Award, sponsored by Blue Water Shipping, has been revealed.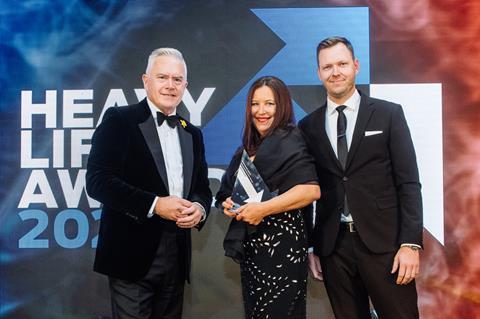 The Environment Award was once again a hotly contested category. Building upon the success of the last two editions of the Heavy Lift Awards, all of this year's finalists showed a considered approach to environmental concerns through an initiative, their day-to-day operations, or through the long-term strategy of the organisation, but it was Stena Line that stood out from the crowd.
Stena Line is now ten years ahead of IMO's 2030 target of cutting the carbon intensity of its ships by 40 percent and, in ten years' time, aims to have reduced its total carbon emissions by a further 30 percent. By 2050, Stena Line hopes to be completely fossil-free and has a number of initiatives in the pipeline to help it achieve that goal.
As one of our judges explained: "Stena Line demonstrates a considered approach to the environment, through its operations and investment, understanding the impact it can have and additionally setting targets for the future demonstrating its conscious effort to have a high impact now and in the future."
There was stiff competition for the shipping line, however, and our judges highly commended Emmert International, which showcased how it made every effort to protect the environment during the transport of a 667-tonne reactor pressure vessel.
Also impressing our judges to make it onto this year's shortlist was Grimaldi Group, with its varying strategies to implement decarbonisation solutions; Hampidjan Offshore for the launch of its Terra 100 percent recyclable lifting slings; Mammoet for its use of the cleanest available alternative fuels for its projects; Porto do Açu, which reached a key milestone in its Sea Turtle Conversation programme; and United European Car Carriers (UECC) for its holistic approach to meet and exceed the decarbonisation targets set by the industry.

Blue Water Shipping is a global provider of all logistics services in modern supply chain management, offering its clients customised solutions with unique and high quality service.
 At the heart of Blue Water is an organisation of skilled professionals who offer complete and tailor-made solutions for any shipping requirement anywhere in the world.
 When Blue Water was founded in 1972, the ambition was to create a small, local freight forwarding company, which could provide clients with a better quality service than its competitors. 
 Today, Blue Water is represented with more than 60 offices worldwide. In every Blue Water office, the company combines its strong global network with local expertise, adding value and providing its clients with services beyond transporting cargo in a safe and efficient way.
 Thomas Bek, global director, energy and projects at Blue Water Shipping, commented: "Sponsoring the Environment Award is something that appeals to us greatly. We take our environmental responsibilities very seriously, as does the wider project logistics industry, and we would like to help publicise this and encourage others to raise their game in the future."