The winner of the Excellence in Engineering Award, sponsored by DHL Industrial Projects, has been revealed.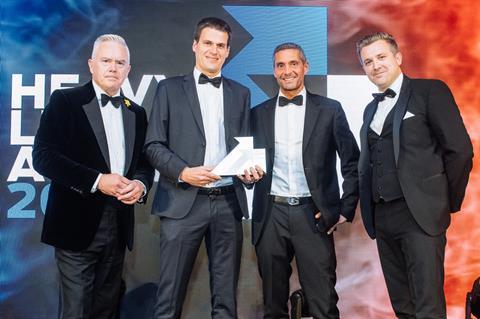 This year's Excellence in Engineering award – presented to the transport engineering team of a company that has taken part in a complex project that demonstrated its ability to overcome unusual challenges using customised engineering solutions – once again attracted a number of impressive projects.
Aertssen Kranen detailed the use of a virtual reality environment to help with the replacement of six reactors; Barrus Projects highlighted work spanning barges, ships, jetty construction, long-distance road transport, gantry cranes and static loading to handle a 1,100-tonne autoclave; Emmert International overcame the challenges of moving nuclear-related cargoes; and Mammoet's engineering skills were on full display with the support of a bridge-widening project in Dubai.
Ultimately, our judges found Fagioli's work to install a 1,800-tonne plinth at open sea the most impressive. The company put its skills to the test to fabricate a tailor-made catamaran, composed of two barges and a launching system, for the work. One of our judges commented: "Lifting in that dynamic world is exceptional."
Our judges also highly commended Sarens for its role in the installation of 89 monopiles as part of the Windpark Fryslân, located on the Ijsselmeer lake in the Netherlands. Shallow waters and restricted access facilitated the need for the 'Sarens Soccer Pitch' – modular barges were mobilised to create a platform on the Ijsselmeer from which a 1,250-class crane could work safely.