The winner of the Lifetime Achievement Award has been revealed.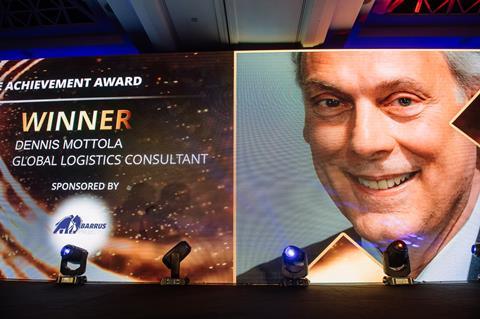 The final award of the evening was the Lifetime Achievement Award, which this year went to project logistics veteran and former corporate manager of logistics at Bechtel, Dennis Mottola.
"To say only a few words about Dennis is a big ask as he is such a huge personality in our industry – greatly admired and hugely respected," said Susan Oatway, a judge and senior analyst at Drewry. "He has always been so very generous of his time and very supportive of the next generation. I have always felt it is very personal with Dennis; he cares as much about the people as he does about the cargoes."
Described as a true professional and trustful person, Dennis' reputation in the industry spreads far and wide. "Of our, generation few can say they have not heard of him or have had dealings with him and although now retired he is still looking in and watching what is going on," commented Justin Archard at One World Shipbrokers. "As they say – you cannot keep a good man down."
Fellow judge, Kyriacos Panayides from AAL, added: "Great industry leaders and pioneers aspire to leaving a legacy behind them and that is exactly what Dennis has done, and in fact, continues to do. He has always demonstrated to be a man of trust and truly reliable to do business with, pushing frequently the boundaries of what most people thought impossible. Despite being a tough businessman and such a titan of our industry, it is remarkable how open and humble he is and generous of his time to others. His legacy is not just the size and importance of the proud operation he has left behind in Bechtel, but the grace and dignity with which he built it – a great example to us all."

Barrus Projects, founded in 2015 with its headquarters in Moscow and more than 20 offices in Russia, Kazakhstan, as well as representative offices in Poland and Dubai, managed to establish itself as a professional carrier and a reliable partner in project cargo transportation throughout Russia and the CIS countries. Barrus Projects successfully serves the oil and gas, petrochemical, renewable energy, mining and processing industries and has all the necessary assets and know-how for the implementation of a full range of project logistics (turnkey solutions): from analysis and refinement of road infrastructure to rigging and installation at the construction site. The competitive advantages of the company are one of the most professional engineering teams in the CIS, its own engineering department, as well as a fleet with specialized equipment: ballast trucks Mercedes-Benz, Volvo, Scania; Goldhofer THP-SL and Scheuerle K25 axle lines; specialised telescopic semi-trailers Faymonville and Noteboom; crawler cranes Demag CC4000; hydraulic portal system Enerpac SBL 1100 T; Holmatro hydraulic horizontal skidding system and system of controlled lifting. The company also provides additional services through other companies of the Barrus Group, namely customs clearance, as well as certification and expertise of industrial safety of equipment throughout the Eurasian Customs Union.