HLPFI reviews the shortlisted entries for the Heavy Lift Awards 2021 Overland Transport Provider of the Year award, sponsored by Goldhofer.
Our shortlist for Overland Transport Provider of the Year:
Allelys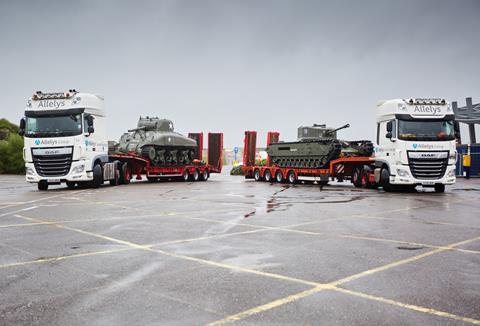 Kicking off this year's shortlist for Overland Transport Provider of the Year award is Allelys. Well-known in the UK heavy haulage market, it owns and operates trailers suitable for every type of cargo and, within the last 12 months, its expansive equipment fleet has been deployed for a range of innovative transport solutions, including the delivery a 220-tonne landing craft to the National Museum of the Royal Navy; the transport of Sherman and Churchill tanks each weighing 35 tonnes; and the transporting a 202-tonne transformer from Stafford to Ellesmere port using a Faktor 5.5 girder frame, to name a few. Over the last year, Allelys has continued to invest in its fleet and personnel, all while maintaining a commitment to safety.
Collett & Sons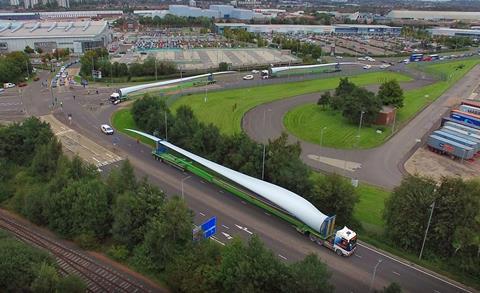 Also impressing our judges is Collett & Sons. Over the past 12 months, Collett has continued to grow and expand, with the acquisition of 3,792.2 sq m heavy lift storage and warehousing facility in West Yorkshire, as well as the addition of two Volvo FH 8x4 tractor units; an Enerpac JS-125 lifting system; and Montracon Urban extendable trailers. The expansion and investment are in addition to a number of impressive projects, including the delivery of four storage tanks over a six-week timescale, the transport of a 160-tonne turbine and 120-tonne generator to the Rookery South Energy Recovery Facility, and the handling of. a 280-tonne hyperbaric chamber.
Edwards Moving & Rigging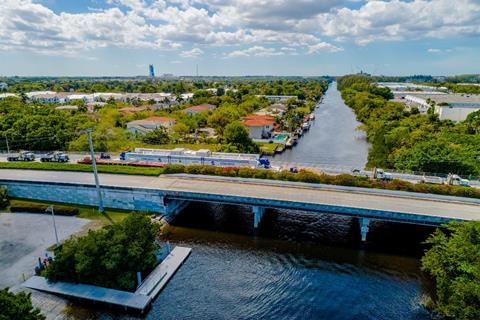 Edwards Moving & Rigging wowed our judges with the transport of two turbines and two generators – weighing 317.5 tonnes and 420.5 tonnes, respectively – to a power plant project in South Florida. After designing and fabricating a barge stowage arrangement, Edwards utilised a 15-line PST combination to move the oversized units to a staging area where they were translated onto a Fakto 5 girder bridge. With support from four Kenworth C-500 prime movers the colossal components navigated 21 km to reach the project site. That was one of approximately 250 projects that Edwards completed during 2020 and 2021, and accompanies a strong company track record and a robust rigger apprenticeship programme.
FTE-Logistics

Although a relative newcomer to the heavy transport sector – beginning this business segment in 2014 – Saudi Arabia-based FTE-Logistics earned its place in this year's shortlist after a year of landmark projects and continued investment in its equipment and people. One project highlight was the transport and installation of LPG bullet tanks weighing 950 tonnes and measuring 63 m x 10 m x 11.7 m, with the route spanning over 450 km from Dammam to Riyadh. FTE performed several route surveys, liaised with local authorities and coordinated route modifications to deliver the factory to foundation project.
Potteries Heavy Haulage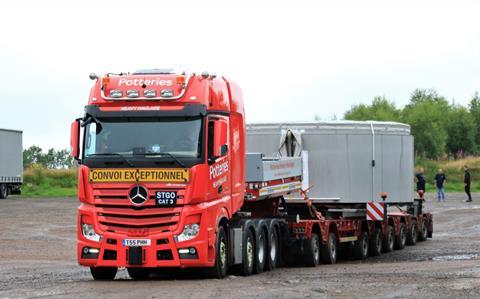 Completing this year's shortlist is Potteries Heavy Haulage. Our judges were impressed with the company's outstanding safety record – in the past year gaining ISO 45001: 2018 for Occupational Health & Safety Management System Certification and investing in camera systems for all its commercial vehicles; as well as its continued focus on its fleet. Potteries only operates Euro 6 engines and has added more trailers and pilot cars and is planning to expand its heavy haulage tractor units. On top of that, during the last 12 months, the company has delivered one of its largest projects – transporting 20 items weighing up to 140 tonnes for Air Products in Ireland.
The winner of this year's Overland Transport Provider of the Year Award will be announced in October.
Find out more: www.heavyliftawards.com

GOLDHOFER is a leading global manufacturer of specialized transportation equipment in the field of general and heavy-duty road haulage and oversized cargo transportation. With a full and proven range of products, including trailers, semitrailers, modular heavy-duty vehicles, self-propelled tractors, transport equipment for wind power plants and aircraft tractors, Goldhofer meets an extremely wide variety of needs in almost every transportation situation. The company has supplied more than 38,000 vehicles to more than a hundred different countries, all of them now doing a reliable job in what are sometimes extremely difficult conditions.