HLPFI reviews the shortlisted entries for the Heavy Lift Awards 2021 Project of the Year Award, sponsored by Fesco Projects.
This award will be presented for the successful execution of a complex logistics project, involving the door-to-door delivery of multiple oversize and/or heavy cargoes.
This award could be entered jointly to reflect logistics and/or transport partners or individually. The judges were looking for a project that demonstrates:
Unique techniques and innovative approaches to overcome project challenges
The use of multiple transport modes
The employment of advanced equipment and/or technology
Entries needed to include evidence/examples of:
Detailed planning
Safety considerations
Benefits to client
The Project of the Year award garnered a huge number of entries this year, many of which demonstrated the highest standards that the industry has to offer. The judging process narrowed down the entries to shortlist of 12.
Barnhart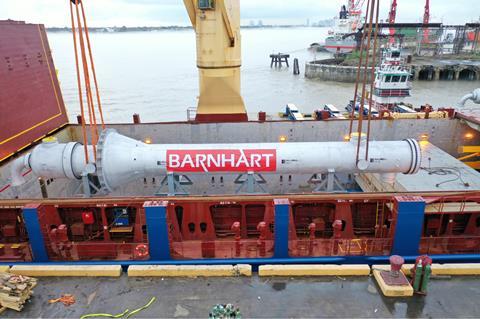 Barnhart was contracted to deliver four Texas Towers from Marghera, Italy, to Joliet, Illinois, during winter conditions. Originally scheduled for delivery in July 2020, complications due to Covid-19 pushed delivery to the heart of the worst winter blizzard in the USA in over 60 years. Our judges recognised that weather conditions made this task immensely difficult and commended the fact that the project was executed on time.
deugro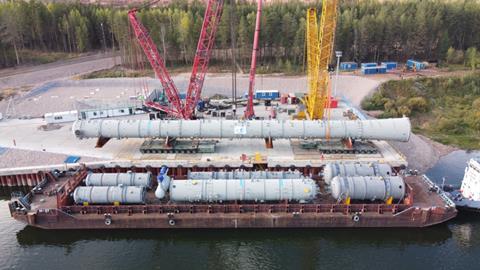 In cooperation between its offices in Japan, Russia and South Korea, deugro transported 35,541 freight tons of cargo simultaneously on two fully chartered vessels for an ethylene and polypropylene plant from Masan, South Korea, via Tiksi in the Arctic Ocean to Ust-Kut, Russia.
Judges commended a "rock solid project" executed across difficult circumstances – notably a completely remote final installation location.
Fagioli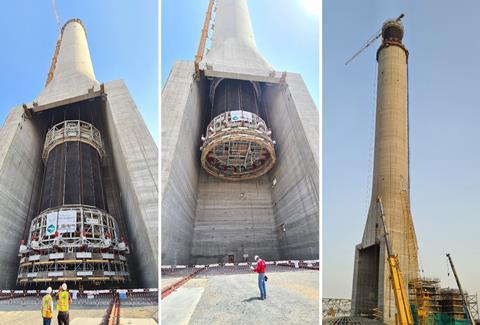 Italian heavy transport and rigging specialist Fagioli demonstrated its engineering excellence at the world's largest single-site solar power plant – the Mohammed Bin Rashid Al Maktoum Solar Park in the UAE.
Fagioli took part in the construction of this 2 GW capacity power plant, providing skidding and lifting operations for a molten salt receiver (MSR) and 10 different CSP tower platforms. The total weight of all of these items was over 3,600 tonnes.
Laso Transportes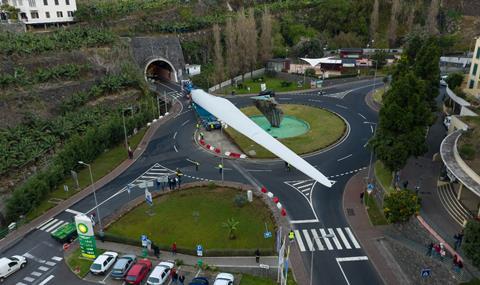 Laso Transportes supplied an entry detailing the transport of wind energy components to the Alecrim-Urze project in Paúl da Serra, on the island of Madeira. Our judges recognised the difficulties posed when executing a project of this nature, which involved 67 m-long blades being transported across the island.
Lift & Shift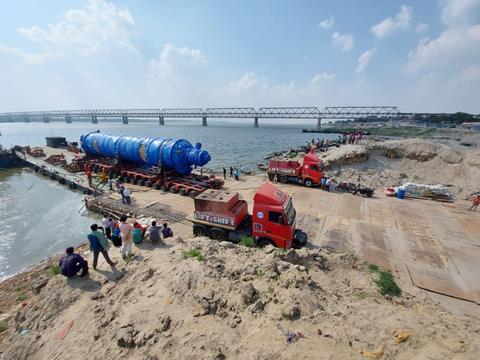 Lift and Shift India's entry shone a light on a complex project involving 17 heavy and oversize items with a combined weight of 3,000 tonnes for Hindustan Urvarak & Rasayan Ltd (HURL). Our judges understood how challenging a project of this nature can be in India, with bureaucracy, Customs and infrastructure among the perennial issues to tackle.
Mammoet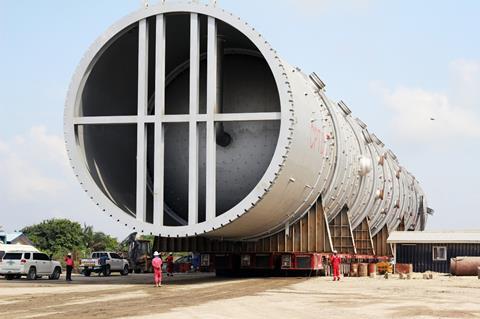 Dangote Group is developing a world-class refinery in Nigeria that would reduce the country's reliance on imported energy and bring with it over 30,000 jobs. Mammoet played an integral role in its construction, delivering some 52,000 tonnes of components to the site. To handle the weights, including a 2,000-tonne crude column, swampland was reclaimed and made into a surface capable of handling 50 tonnes per sq m using Mammoet's EnviroMat technology. Two of its largest super-heavy lift ring cranes – the PTC 200 DS and PT 50 – completed key lifts at the refinery.
Marr Contracting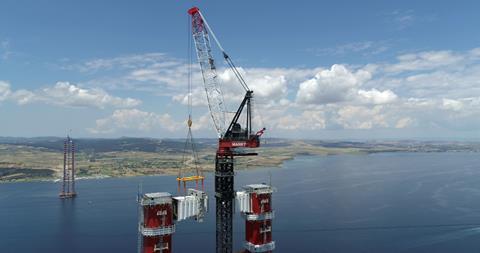 Marr Contracting, in close collaboration with its client DLSY JV, completed the construction of the 318 m bridge towers on what will be the world's longest span suspension bridge – the 1915 Çanakkale Bridge in Turkey.
Two 330-tonne capacity M2480D heavy lift luffing cranes were used in an innovative approach that has the potential to redraw how projects of this nature are executed. Our judges were impressed with Marr's approach, pushing innovation in the sector to a new level.
Osprey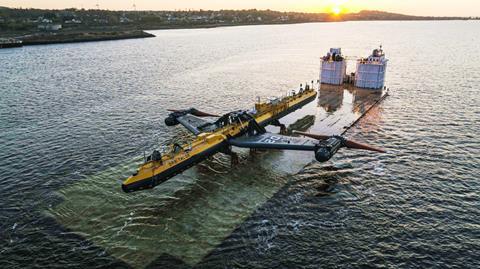 UK-headquartered Osprey showed its skills in an end-to-end project involving inland waterway, onshore and specialist offshore logistics. The load-out operations of the Orbital O2 tidal turbine needed marine assessments, subsea surveys, SPMT movements, heavy lifting, and a logistics plan that would ensure smooth and secure delivery. Our judges were keen to commend the use of new techniques to move a cargo and install a subsea cargo that will become increasingly common in the renewable energy arena.
RTL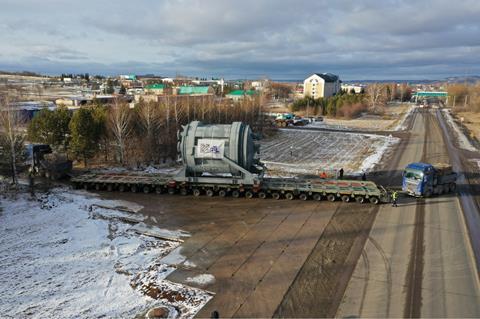 In the autumn of 2020, RTL carried out the international delivery of a maleic anhydride synthesis reactor for PJSC Tatneft. The consignment, which comprised 28 units including two large items weighing 333.4 tonnes each, was first delivered by river barge to the port of Rotterdam where the cargo was loaded onto an oceangoing vessel for delivery to the Russian port of St Petersburg.
The equipment was reloaded onto another river barge for shipment Nizhnekamsk. Here the 26 smaller units – including spare parts and components – were loaded onto vehicles by cranes, while the two oversize units were rolled off the barge onto trailers. The consignment was then transported by road to Almetyevsk using a combination of Goldhofer THP/SL 24 axle lines.
Sarens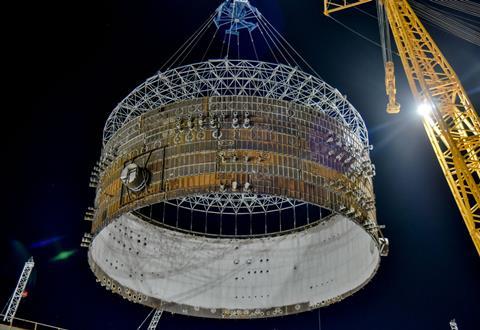 Sarens has played an integral role in supporting the construction of the Hinkley Point C nuclear power station – currently the UK's largest and most complex civil engineering project. Its SGC-250 crane will help the Hinkley Point C team deliver increased efficiency by lifting and shifting the station's heaviest pre-fabricated components – of which there are more than 700 – in a project that demonstrated why Sarens is a world leader in our sector.
Schmidbauer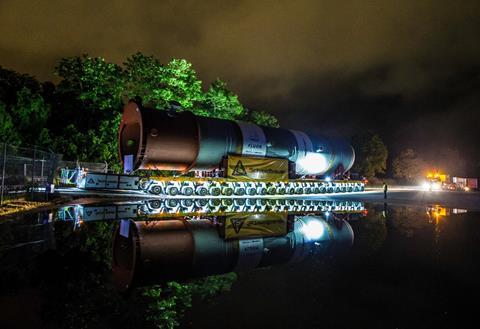 Schmidbauer set a ground-breaking record in Germany with a project that was described by our judges as being extremely well executed. The crane rental company transported two reactors from the port of Kelheim to Neustadt in Germany in four stages for an oil refinery. The reactors weighed 660 tons (598.7 tonnes) and 880 tons (7983 tonnes), respectively. Schmidbauer said that this was the greatest weight transported on German roads.
Viktor Baumann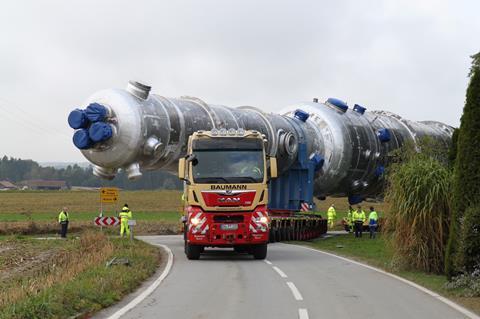 Viktor Baumann supplied an entry to our judging panel detailing the movement of a 323-tonne heat exchanger measuring 72 m long from Tachtering in Bavaria to the port of Passau. The complex project saw Viktor Baumann negotiate steep inclines, narrow passageways, and weak infrastructure.
The winner of this year's Project of the Year Award will be announced in October.
Find out more: www.heavyliftawards.com