The Drewry Multipurpose Time Charter Index decreased slightly over March to USD11,170 per day, representing a drop of 0.2 percent compared to the previous month.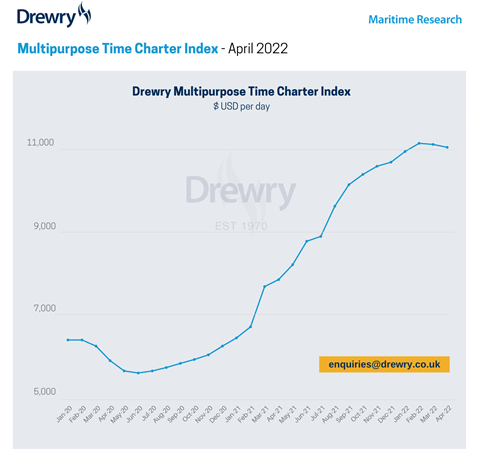 Russia's invasion of Ukraine might not have a clear impact on multipurpose trades, except perhaps in the shortsea Northern European market, but the impact on global confidence, rising commodity prices and the competing sectors has caused the recent rate rise to falter, said Drewry.
While there is potential for rates to fall further as a result of the loss of Ukrainian grain exports, Drewry said that rising bunker prices will keep rates artificially elevated. Therefore, its expectation is rate stagnation.
For the heavy lift capable fleet, a wait-and-see attitude seems to be prevailing. While the Black Sea trades have less of an impact on the longer-haul trades, the decline in optimism, growing oil price and increasing uncertainty leaves little room for rate increases. Rates for the larger vessels saw some benefit from the latest port congestion in China and project carriers are still in demand to fill the supply breach.
In its recent webinar on the multipurpose and heavy lift shipping market outlook, Drewry's Susan Oatway said that there is little, if any, upside in its base case scenario. The conflict in Ukraine and covid-related lockdowns in China will have multiple ripple effects but the biggest change will be on the expectations of the global economy.
Growth in demand is expected to slow when supply chain issues ease. This will be further impacted in 2023 when new tonnage from competing sectors arrives onto the market.
In terms of the fleet, there are still concerns about overaged tonnage. 60 percent of the fleet is over 15 years old. When split into vessel types, the 'simpler' ships (with lifting capacities up to 100 tonnes) have an average age of 20 years old. For the project carriers, the average age is 16.
The orderbook, meanwhile, is still considerably low. The sector is underfunded in terms of newbuilding investment, said Oatway, with capacity at yards at a premium owing to the fact they are fully booked with container tonnage. Drewry anticipates that this will pick up marginally in 2023, when the need for more eco-conscious vessels becomes more pressing and space becomes available.