Sarens has installed a 1,000-tonne bridge across Belgium's busiest traffic corridor.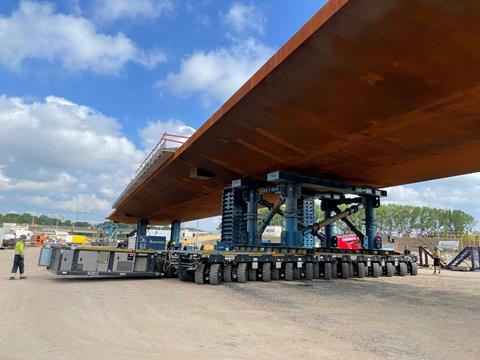 Sarens is pleased to have helped our client, Iemants, with the jacking, transport, and installation of a newly-built bridge in Zaventem, Belgium.
This project required precise and careful planning: 150,000 vehicles pass through Brussels' ring road on a daily basis, making it Belgium's busiest traffic corridor. Sarens had to coordinate carefully with all parties to execute this operation within the few brief hours that the busy traffic corridor would be closed.
First, four CS350 towers were used to jack the 1.000T bridge upwards by 14 elements (4.2 metres). As this system has a high level of automation, the bridge was raised in the blink of an eye.
Then, as soon as the clock struck 22:00 on Saturday, Sarens was given the all-clear by highway police to begin driving its Cometto SPMTs slowly but surely across the highway. The SPMTs drove the 105-metre long and 17-metre wide bridge into place with nothing but 10cm of clearance to the pillars and abutments. The very last centimetres proved to be the hardest, but disconnecting the data line between SPMT trains allowed Sarens to shuffle the last few centimetres to get all plumb bobs on their mark.
Once in place, Sarens' client, Iemants, began welding temporary guiding to the bridge. With just an hour to spare before the end of closure, the SPMTs drove out from under the bridge and across the highway.
By 6:00 in the morning, all lanes were opened to traffic once again, as planned. Mission accomplished! In all, 4-5 people took care of the preparation of equipment and the jacking, and six people were present for the execution of the operation.
Equipment and Rigging
As Zaventem is only a 20-minute drive from Sarens' Wolvertem HQ, transporting the equipment was no hassle. The CS350 system and all structural elements, including bracing, load spreading mats, and more, were transported from HQ. Meanwhile, all SPMTs made their way from another project in Dunkirk. In total, 24 trucks were used to transport the equipment, and setting it up (including jacking) took about five days.
For this project, Cometto SPMTs were used instead of Kamag SPMTs. Because the Comettos joined the Sarens fleet only recently, they were still quite new to staff and operators. While this presented some challenges, Sarens operators faced them with their characteristic ingenuity and perseverance. Additionally, because there was hardly any margin for error given the road closure's strict time frame, Cometto technical service was on site and ready to intervene if and when needed.
Preparation and Planning
In the months prior to project execution, Iemants transported the bridge in 12 separate sections to Zaventem, for it to be assembled on site. Sarens' telescopic cranes assisted Iemants with the load out of these segments on site.
During the operation, the bridge had to clear a protrusion while still leaving enough stroke in the SPMTs to lay it down on its supports. Because tolerances would be narrow, the client needed to prepare a precise ground level height for the SPMTs. Iemants even provided a land surveyor to measure the bridge's deflection as an extra check. In the end, it was a case of centimetres, but all went as planned.
Next Steps
In October 2022, Sarens will be back in Zaventem to dismantle the 'old bridge' (next to which the new one was placed). Then, in June 2023, the team will return once again to install another bridge to replace the old one. We are looking forward to the next phase in this exciting project!

Sarens' mission is to be the reference point in crane rental services, heavy lifting, and engineered transport. With state of the art equipment and value engineering, the company offers creative and intelligent solutions to today's heavy lifting and engineered transport challenges. With more than 100 entities in 65 countries operating without borders, Sarens handles small-scale to mega-scale projects. It currently employs 4,452 professionals. Safety and excellence are key drivers for Sarens and the company strives daily to establish a safe space for everyone and everything related to its operations. Sarens has been the market leader for over 60 years; over four Sarens family generations are intimately involved in the business. Sarens continues to build the future on the foundations of its rich past and ensures that its clients will always stay ahead of the game when it comes to heavy lifting and engineered transport innovation.
View full Profile