The British International Freight Association (BIFA) has unveiled the shortlist for its Freight Service Awards, including the coveted Project Forwarding Award.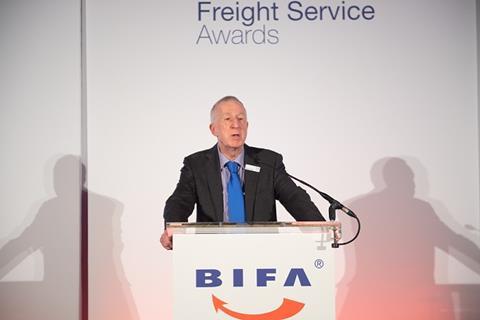 26 freight forwarding companies have been shortlisted this year across the nine service categories:
Project Forwarding Award, sponsored by Macbeth incorporating Peter Lole Insurance Brokers
deugro (UK)
Good Logistics
Ucargo
Wallis Shipping Services
Air Cargo Services Award, sponsored by IAG Cargo
deugro (UK)
Geodis Freight Forwarding UK
Mandarin Global Logistics
Noatum Logistics
European Logistics Award, sponsored by TT Club
Brunel European
Ewals Cargo Care
NNR Global Logistics
Westbound Logistics.
Ocean Services Award, sponsored by Port Express
DG International Group
Ligentia UK
Mapcargo International
Uniserve Group
Cool and Special Cargoes Award, sponsored by American Airlines Cargo
James Cargo Services
Seafast Cold-Chain
Extra Mile Award, sponsored by Descartes
Anchor Freight
Coyote Logistics UK
deugro (UK)
Unsworth UK
Specialist Services Award, sponsored by Thyme-IT
Channelport
Freight Logistics Solutions
Seafast Logistics
Ucargo
Staff Development Award, sponsored by Albacore Systems
Geodis Freight Forwarding UK
LV Shipping
Speedy Freight
Uniserve Group
Supply Chain Management Award, sponsored by BoxTop Technologies
B&H Worldwide
Freight Logistics Solutions
Killick Martin & Co
Ligentia UK
The finalists in the Apprentice of the Year category, sponsored by Seetec Outsource, are Cameron Smith, Ligentia UK; Elliot Haldane, Geodis Freight Forwarding UK; Jacob Kennerley, Cargo Overseas; Joel Amado, Aramex UK; Kelly Bell, Good Logistics, and Thomas Low, OIA Global.
In the Young Freight Forwarder of the Year category, sponsored by Virgin Atlantic Cargo, the finalists are Thomas Frost, Geodis Freight Forwarding UK; Dalya Henry, ITD Global; Kyle Lawrence, OIA Global; Jordan Prangnell, Ligentia UK; Jenna Speed, Kuehne + Nagel; and Cheryl Sullivan, Ucargo Pacific Logistics.
Robert Keen, BIFA's director general, commented: "Since our last awards ceremony, BIFA members have continued to face and overcome many challenges across all modes of transport, to manage many of the UK's visible supply chains and keep trade moving.
"Many entries to the BIFA Freight Service Awards 2022 document the obstacles encountered by our members and the innovative measures taken to overcome them while continuing to manage their businesses during very challenging times."
The winners will be announced at the BIFA Annual Luncheon and Awards Ceremony on January 19, 2023.