David Kershaw spoke with Jan Frahnert (managing partner) and Willem-Alexander Dous, (managing partner and ceo) of Hamburg-headquartered Carrrier53', which is carving a niche on the China-USA trade.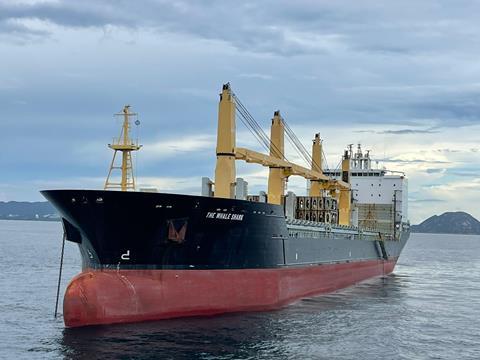 Carrier53' specialises in the transport of 53 ft containers from China to the USA. Established during June 2021 by container lessor Lotus Container Group and ship manager Schulte & Bruns, Carrier53' was spun off as a fully independent entity in March 2022 having grown rapidly since its formation.
At the time of writing, Carrier53' had performed 41 sailings with its six vessels, which occupy the 32,000-38,000 dwt range. The primary revenue generator, thus far, has been front haul – namely 53 ft containers from China to the North Pacific, and a swift ballast back to China.
"Now, we have strengthened our team [in the USA] and are starting to generate backhaul – bulk and general cargo." Dous said that it will only call at one or two loading ports on the backhaul to maintain service reliability, which is a core focus for the line. "We do not intend to take on five or six parcels to fill the ships on the backhaul. For us, time rotation is crucial and we want to keep it to a minimum."
Presently, its ships sail from either Qingdao or Humen directly to Portland. Stateside, "Carrier53' has its own dedicated berth in Portland with no waiting times. It has onsite Customs and is rail connected," said Dous, noting that "we have not experienced any disruptions."
Two of its vessels – Whale Shark (delivered during July 2022) and Shanghai Pearl (delivered during November 2021) – are owned. Four UBC T-class vessels are time chartered in. It plans to acquire an additional vessel in Q4 of this year, and another in Q1 2023.
"We want to increase our own tonnage, and we want to have a good balance between time chartered and owned. We will most probably increase the number of sailings from China – so far we have been sailing from Humen and Qingdao to Portland and, next month (September), we will start a service from Shanghai."
Carrier53' also has an agreement in place to call at Los Angeles but has been somewhat reticent to launch to the gateway due to concerns about labour strikes. Both Frahnert and Dous are continuing to scan the market for opportunities. In September, Carrier53' will launch a twice-monthly service connecting Mexico and Germany.
Dous said that he has found the early stages of the Carrier53' journey to be exciting. "It's very new to us. I've been in the container game for 25 years now. Jan has for six years. It was refreshing to do something outside of the standard container business while still being associated to the industry and using established connections to support Carrier53' in its endeavours. We are enjoying it. Of course, the market has been supportive."
Frahnert added that it has been great to work within a close-knit team. "It's a familiar bunch. The team comes from Schulte & Bruns, who we worked with before in cooperation, and from Ocean7 who we also worked with on project business. We are not new to each other; we know our competencies and capabilities."