Given the vast open spaces in the USA and Canada, as well as those nations' eagerness to embrace renewable energy, it was only a matter of time before wind turbines in sizes usually used offshore have been getting their feet dry across North America.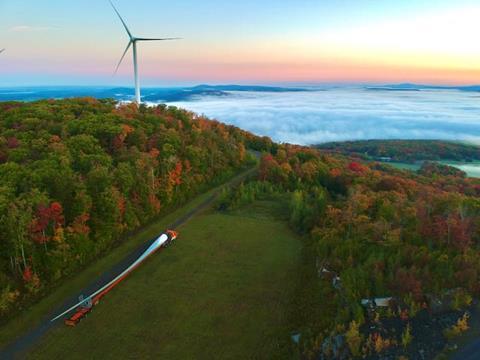 This is the case for both greenfield construction as well as for repowering projects where a few huge turbines are replacing many smaller first-generation towers.
The snag is literally the risk of snags: landside project cargo companies say that the longer blades pose increasing complications in several aspects of risk and project management from insurance and equipment to route surveys. "Longer blades are a significant challenge, said Erik Zander, director of sales for Omega Morgan, which is based in the US Pacific Northwest but does a great deal of work in Canada. Blades of 74 m and 76 m have been moved by road and barge. There has been discussion of 80 m blades.
"The trick is the first and last mile," said Zander. "Continuing congestion at many ports increases the potential conflicts with signs, lights, and other obstacles. Once we are on the highways there is usually not much problem, but getting from unloading to the highway, and from the highway to the site is the challenge. We have been using laser imaging to model moving blades through tunnels."
On the East Coast, the challenge the same but the direction is reversed. "Dimensions for all wind components are increasing," said Kevin Kwateng, director of operations for the transport, engineering and logistics division of Groupe Bellemare, based in Quebec. "We have a project where blades of 107 m are being built in eastern Canada and having to move to the USA for an offshore installation. The sheer size increases the cost and complication of transport."
That is true for all components. "There is much more modular construction in wind turbines," Kwateng added. "We are seeing assemblies 20 m x 20 m and 250 tonnes to be moved over the road, by barge, or train. For example, where there used to be four components moved for CAD100,000 (USD76,769) each, we are now seeing one assembly that can cost CAD1 million (USD767,690) to move. But owners prefer that because over the whole project they are saving time and costs for engineering, construction, and testing."