Bertling Logistics and Rafeek & Moore have established a joint venture company targeting the project logistics market in Guyana.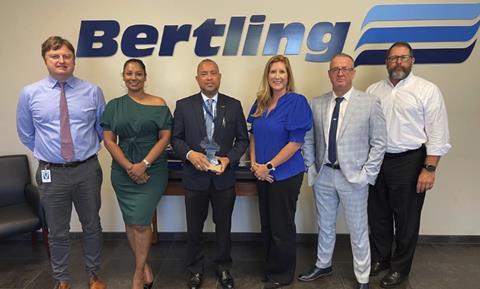 Rafeek & Moore Bertling Logistics (Guyana) will commence operations on October 1, 2023 and will be based at Rafeek & Moore's office in the Port of Georgetown.
The primary purpose of Rafeek & Moore Bertling Logistics (Guyana) will be to jointly explore the various business opportunities available in Guyana's oil and gas, mining and construction sectors, and to add the value-added services and structure of both companies to a dedicated logistics service offering.
The JV will be led by Colin Moore of Rafeek & Moore and Steve Ross-Munro of Bertling Logistics. Moore knows the Guyanese market inside out, having worked in the country for over 30 years. He is well connected, knows all the local suppliers and has access to local resources, vehicles and equipment to transport events to the remotest corners of the country. Ross-Munro, meanwhile, has been part of the global logistics business for more than 30 years and has worked and lived in UK, Middle East, Asia and the USA. He joined Bertling Logistics in Houston earlier this year as director of business development and has known Moore for several years.
In terms of each company's specific capabilities, Bertling focuses on global project logistics and transport engineering solutions, while Rafeek & Moore specialises primarily in general freight forwarding, trucking and customs brokerage services in Guyana. Bertling will bring its global network of offices and suppliers, modern IT infrastructure and extensive project experience to the Americas.
"We are proud to have Bertling as a loyal and trusted partner to add value, expand our local service offering in Guyana and diversify our portfolio," said Moore. "We are very familiar with their dedication, go-anywhere approach and high-quality transport engineering expertise from our long working relationship and look forward to combining the skills of both companies under one roof from now on."
Colin MacIsaac, ceo of Bertling Logistics, added: "Guyana and the surrounding countries have been on our radar for years and our global team is excited about the new business opportunities that are emerging in the country. Rafeek &Moore's skilled team, high quality local services and extensive local network are well known in Guyana. We are confident that our new joint venture will establish a leading position in Guyana and that we will be ideally positioned to adequately respond to and serve the logistics needs arising from the ongoing energy transition."