Offshore installation contractor Cadeler has signed a contract with ScottishPower Renewables for the transportation and installation of 95 wind turbine generators at the East Anglia Three wind farm, located in the southern part of the North Sea.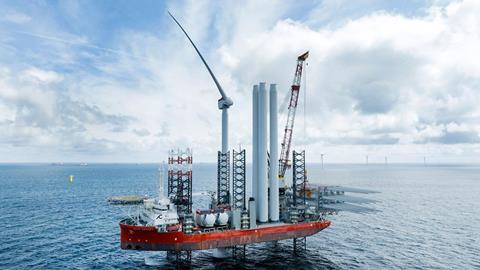 Cadeler's role in the project is scheduled to start in early 2026 and is scheduled for completion by the end of the year. When completed, the wind farm will have a total capacity of 1.4 GW. The value of the agreement will be just above USD105 million.
The reservation agreement for this project was made on July 13, 2022, and now has been converted into a firm contract. Cadeler will deploy one of its O-class vessels featuring a new crane, as well as a newbuild X-class vessel that is currently under construction.
Mikkel Gleerup, ceo at Cadeler, said: "We are happy to sign this important contract and begin our new partnership with ScottishPower Renewables. The East Anglia Three is a highly ambitious project that when finished will power 1.3 million homes with renewable energy and have a definite impact on our urgent transition to green energy sources."
Siemens Gamesa will supply 95 wind turbine generators for the project. The SG 14-236 DD variant has a rated capacity of 14 MW each. Also included is a service contract, initially for an eight-year period.
Siemens Gamesa Offshore ceo Marc Becker commented: "East Anglia Three is critical to the successful achievement of the UK's decarbonisation of energy, and its path to energy independence. It also marks the first deployment of the ground-breaking SG 14-236 DD offshore wind turbine in UK waters.
"In these challenging times, it is encouraging to sign this firm order with ScottishPower Renewables as we jointly move to a more financially sustainable wind industry, but we need the UK government to fully recognise that renewable energy, especially wind generation, is now on the same level of importance as oil and gas and requires similar levels of support to ensure it delivers what the UK needs to reach crucial net-zero targets."
East Anglia Three is the third stage of the 3 GW East Anglia Hub wind energy complex.