The Crosby Group has launched the Crosby Straightpoint LoadConnect cloud-based software, which can monitor loads from any distance and from anywhere around the world to improve safety and efficiency at work sites.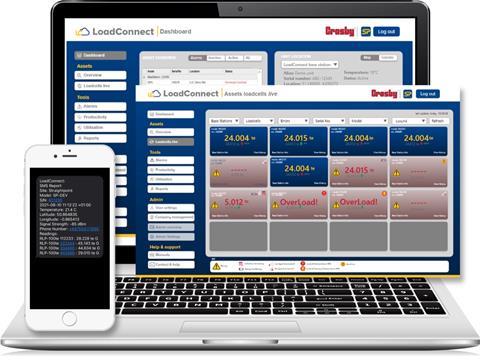 When connected to a wireless base station, load cell data is transmitted to the cloud software solution, LoadConnect. The online dashboard provides users with fast, real-time load data, monitors errors and status, and has a map pinpointing exact product location. It also provides an overview of productivity and utilisation.
Users can also access more in-depth statistics, historical readings, and view analytics via the dashboard, as well as schedule reports directly to any chosen email. This, Crosby said, will reduce site visits, improve decision making, and safely monitor loads and line tensions from any distance or location.
Each base station can connect from up to 16 Crosby Straightpoint wireless load cells, with an option of one cabled load cell, which transmit data to the LoadConnect dashboard via a chosen network or nearby WiFi. When connected via a network, LoadConnect also has the option to send data to a user's mobile phone.
Thomas Dietvorst, director of technology solutions, said: "This is a ground-breaking software solution, whereby you will be able to monitor loads from any distance from anywhere around the world. LoadConnect will prove to be a game-changer for anyone using our wireless load cell range in industries such as telecommunications and bridge nets, eliminating the need for personnel to regularly visit remote locations to check line and wire tension.
"There are also many use cases in the construction sector and other industries where similar projects are common, such as ship building to monitor weight as loads are applied and nuclear power plants to prevent catastrophe."