Deep South Crane and Rigging has transported an oxygen tank from Texas to a gas facility in South Carolina, USA.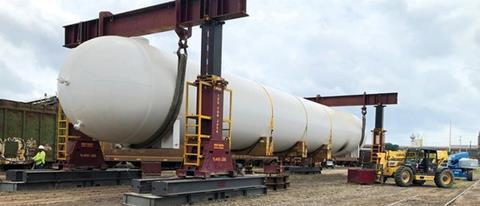 The tank measured 32 m long, 3.8 m in diameter, and weighed 170 tonnes.
The unit was loaded onto an eight axle-lines of Scheuerle SPMT, which had been modified with wooden saddles, and moved to a nearby rail spur. There, it was lifted with a 500-ton (453.6-tonne) gantry system onto a railcar.
After travelling by rail, the gantry was used again to move the tank from railcar back onto the SPMT combination, which delivered the unit to a staging area ahead of final installation.
Deep South said that the wooden saddles were particularly beneficial as the crews were able to use a shorter transporter.