Enerpac Heavy Lifting Technology has successfully completed a side-load stability test of its self-locking cube jack, the SCJ-100, at its factory in Hengelo, the Netherlands.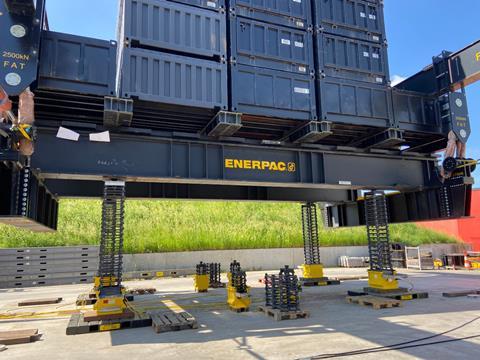 The SCJ-100 is a compact and portable hydraulic solution for synchronised incremental lifting and lowering of heavy loads up to 100 tonnes. It uses a base lifting frame and self-aligning, lightweight steel cribbing blocks to provide high-capacity and stable lifting, according to Enerpac.
During sideload testing, four SCJ-100 Cube Jacks were used to lift a 400-tonne test load. At 2 m high, the load was subjected to a side load of 10 tonne by attaching a cylinder to the load and pushing the load to the full stroke of the cylinder. At 3 m, the maximum lift height for the SCJ-100, the load was subjected to a side load of 6 tonnes.
"Even during the toughest sideload test the performance of the SCJ-100 was impressive and enhances safety," said Pete Crisci, product line director, Enerpac Heavy Lifting Technology.
He continued: "By raising the lifting capacity and maximum lift height, we now offer users a way of tackling heavy lifts that would have been impossible before without excessive, and time consuming, use of climbing jacks with wooden cribbing."
In addition, Enerpac added that the base frame footprint of the SCJ-100 measures 0.56 m x 0.64 m, which makes it ideal for operating in restricted spaces.