Huisman has landed a contract for a 3,000-tonne fully electric leg encircling crane (LEC) from offshore wind turbine installation contractor Havfram Wind, which will be installed aboard its second NG-20000X installation vessel.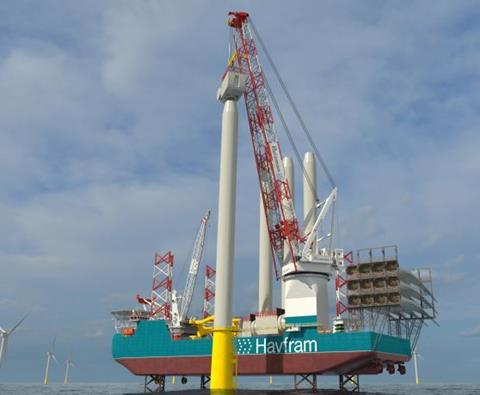 The contract follows an earlier order in December 2022 for an identical crane to be installed on the first vessel.
The LEC will be outfitted with a 155 m boom and will have a lifting height of around 180 m above deck. The design has been fine-tuned according to specific turbine and foundation installation requirements defined by Havfram's engineering team.
The crane features preparations for the next generation of tagline systems, with improved capabilities to install wind turbines in more challenging conditions. It has been optimised for installation of bottom fixed foundations in combination with Huisman's portfolio of monopile grippers and pre-piling templates. It will also feature a small tail swing which offers optimal deck space.
The crane will be produced at Huisman's production facility in Zhangzhou, China.
David Roodenburg, ceo of Huisman, said: "We are grateful that Havfram have placed their trust in us to also equip their second innovative new build vessel with a Huisman crane. They are constructing some of the world's most energy efficient, hybrid-powered wind turbine installation vessels. We are proud that with the two crane orders, we can contribute to boosting wind energy production as well as further improving energy efficiency to reduce Havfram's carbon footprint."