Industrial technology group Nekkar and BMS Heavy Cranes have entered into an innovation agreement to develop and test the SkyWalker wind turbine installation tool.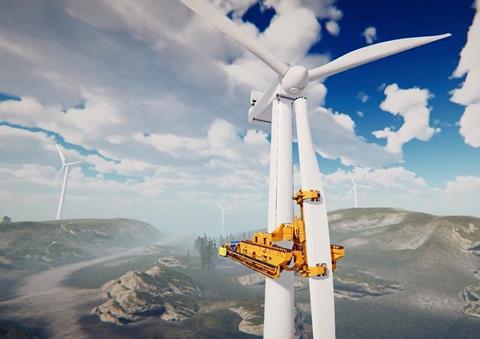 Last year, Nekkar was awarded a NOK21.5 million (USD2.2 million) grant from Innovation Norway to develop the SkyWalker wind turbine installation tool, which aims to significantly reduce the time, cost and environmental footprint associated with wind turbine installations.
The tool uses active heave compensation derived from offshore lifting systems, with remote-controlled and automated systems. This enables a controlled lift that can handle heavier loads and reach larger heights than current crane solutions, and the ability to operate in stronger winds, said the partners.
As part of the agreement, BMS Heavy Cranes will contribute to the verification and benchmarking of the SkyWalker installation tool and will also assess the cost of the system versus current technologies. The company will participate, as Nekkar's lifting and installation partner, in testing the full-scale prototype and when rolling out the technology to the market.
"Several of the large international wind turbine manufacturers utilise BMS Heavy Cranes as their preferred wind turbine lifting service partner," said Neckar ceo Ole Falk Hansen. "BMS Heavy Cranes possesses substantial know-how about the strengths and limitations of current heavy lifting and installation methods and the various OEMs' wind turbine technologies. This knowledge will be used to optimise the SkyWalker design to meet the market needs."
Jesper Hansen, chief strategy officer at BMS Heavy Cranes, added: "We see great potential in this innovative solution for installing wind turbines. When benchmarking SkyWalker against current solutions, we see that the simpler logistics significantly reduce the time needed to install wind turbines. In addition, SkyWalker's controlled lift allows a greater weather window for installation."