Rotterdam-based Tetrahedron has developed a wind turbine installation crane concept that can fit on both existing and new jack-up vessels.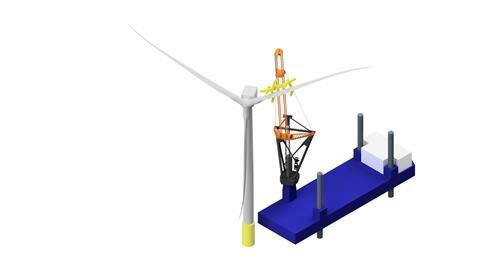 The Tetrahedron crane has a different motion principle compared to alternative wind turbine installation cranes. This, according to the company, means the crane can lift higher than alternative units that have the same footprint, "offering a viable path for owners who want to upgrade jack-ups or build more cost-competitive units to compete in the turbine installation market", said Tetrahedron.
Founder and director Wilco Stavenuiter added: "Due to its unique design and patented technology, the Tetrahedron crane [can] lift 50 m higher than existing cranes, without adding any weight or complexity.
"In practice, jack-ups that are originally designed to install 5 MW turbines can be upgraded without hull re-enforcement (due to the low moment a Tetrahedron crane exerts on the jack-up) and will be able to install future wind turbines such as the SG 14-222 DD or the GE Haliade-X."
According to Tetrahedron, the crane design will be able to handle future turbine developments up to the 20 MW class.
Offshore installation contractor Van Oord, Delft University of Technology and various industry suppliers have contributed to the development of the crane in collaborative projects co-funded by the Netherlands Enterprise Agency (RVO). The concept design of the crane has been completed and verified by DNV GL.
Tetrahedron is now focusing on delivering the first crane by 2022.