Germany-based Weiss Kranservice has taken delivery of a Tadano AC 250-5 crane, which joins its existing AC 220-5 and an AC 300-6 units.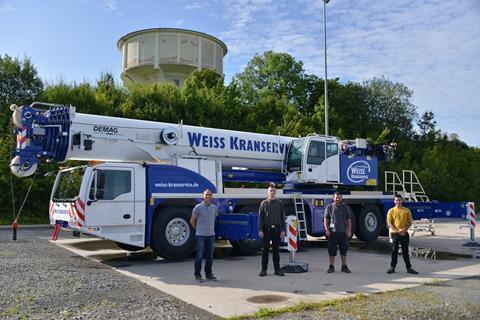 "We were missing a middle child," said Weiss Kranservice junior manager Dominik Magg. One crucial factor in the decision to buy the AC 250-5 was the five-axle cranes' extensive compatibility: "Many of the components in these two cranes are interchangeable – from hoist two, through the main boom extensions and runners, all the way to the swing-away rooster sheaves and heavy-lift attachments. This keeps operating costs down and makes servicing easier," he explained.
"Our main business consists of construction crane rentals, and in order to erect them, we need powerful cranes with long reaches that are also compact enough to work at tight work sites. The AC 250-5 fits that bill perfectly," Magg added. Weiss Kranservice said its next unit, a Tadano AC 7.450-1 all terrain unit, will be delivered in December 2021.