German crane and heavy transport specialist Wiesbauer has added a Grove GMK5150lL all-terrain crane to its fleet.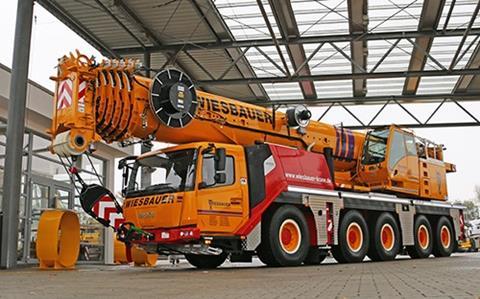 The 150-tonne capacity unit features MAXbase technology, which means the crane's outrigger base can be adjusted asymmetrically, further increasing the lifting capacity and providing flexibility when setting up the crane in confined work areas.
Crane operator Jannik Weigle said: "The MAXbase option makes work easier. You can adapt the crane to suit the site conditions and, on the side, facing away from the load, for example, operate with half extended outriggers."
Wiesbauer's GMK5150L is equipped with a 17.8 m bifold swingaway, which makes the crane even more flexible to deploy by offering greater reach.
With its 60 m-long Megaform boom with twin-lock pinning system, the crane is capable of erecting tower cranes, lifting prefabricated elements onto roof surfaces, installing air conditioning units in buildings or mounting billboards at great heights.
The crane's inaugural job was to relocate a water tank weighing almost 22 tonnes. After that, it erected a Potain MDT 178 tower crane from a distance of 18 m.