The energy sector continues to drive some of the most striking innovation in transport equipment, but both general purpose and heavy-duty trailers have seen their own developments.
Rising demand for wind energy will develop trends we have seen already over the last two decades: components will become bigger and heavier, and more wind farms will be developed concurrently.
As developers erect bigger turbines, in larger numbers, in harder to reach locations, innovation in transport solutions will be needed. That was certainly the case for a customer of German engineering specialist hpl-Group. The company's general focus is on building tools for the metals industry.
Third axis
This customer wanted something entirely different: a more flexible way to control the position of wind turbine blades as it carried them on its Goldhofer SPT transporters. The customer's demand was simple to describe, but technically challenging to achieve, hpl-Group reported. "I need this third axis," the customer said.
The blades the customer would be transporting are not the longest by contemporary standards, measuring up to 60 m and weighing 15 tonnes, but the requirements of the job they would be used for were intense. They would be transported over a winding mountain pass with gradients up to 32 percent and travelling under almost 150 overhead lines.
hpl-Group integrated an additional main swivel axis for maximum transport flexibility in rough terrain. In addition to a usual tilt angle of 0-60°, the additionally integrated main swivel axis allows the rotor blades to be swivelled from 0 to +/-185° from the vehicle axis.
The stability of the overall system, consisting of vehicle, tilt/swivel device and wind turbine rotor blade, is achieved by automatic adjustment of the counterweight. This computer[1]controlled adjustment balances the mass of the transported material in the different positions and driving manoeuvres, so that rotor blades with a moment of up to 300 tonne/metres can be moved without any problems.
hpl-Group project managers Daniel Moss and Siegbert Plasger report that the innovation continues: a new system is under development with a load moment of up to 550 tonne/ metres.
Every component of a wind turbine is getting bigger. Offshore nacelles regularly weigh hundreds of tonnes, and similar sized units are likely to be used widely on land over the next decade. This may demand the use of girder bridges to transport them by road as complete units; even separated into sub-components, they will prove a challenge.
So too will longer and heavier tower sections. Scheuerle, part of the TII Group, is addressing this demand with its latest extension of its K25 transporters. The new devices, designated K25 L for 'low', combine capacity with a low platform height of just 875 mm, helping maintain stability when carrying loads with high centres of gravity, such as a turbine tower section.
Even as it lowers the overall centre of gravity (COG) of the load, the transporter makes room for robust 285/70 R 19.5 tyres, TII said. These are spaced wider apart than those of rivals, with a track width – the measurement between the centre point of each tyre – of 2,100 mm, which TII said is 10 percent higher than competing products. The transporter also claims a higher bending moment than rivals. This will extend its usability to other wind components, like heavy nacelles, and a wider variety of loads where the COG does not align neatly with the transporter support centre.
From factory to yard
Increasingly, specialised transporters are finding a home not just on the road, or outdoors in fabrication or shipyards, but within factories. This allows heavy manufacturers to move large pieces of machinery along the production line, and out into the yard for delivery to customers. As the technique has become more widely adopted, the capacity of transporters offered has increased.
Heavy-duty trailer manufacturer Scheuerle's latest addition to its PowerHoss line offers increased capacity, with six axles in place of the two/four axles on previous models. While these versions can handle payloads of up to 85 and 174.9 tonnes per module respectively, the six-axle vehicle accommodates up to 330 tonnes of payload.
Individual PowerHoss modules can be operated in an uncomplicated manner according to the plug-and-play principle, either mechanically or electronically in a loose coupling mode, as well as being coupled to one another both laterally and longitudinally in order to meet even higher payload requirements. A vehicle combination of four PowerHoss 330 transporters is able to move loads with a unit weight of up to 1,320 tonnes.
Increased stability
The transporters feature an inbuilt power pack unit and can be operated after only a short training briefing, said Scheuerle. As the modules are wider, at 3 m, than standard industrial transporters built to container width, they offer increased stability.
These units are designed with intralogistics in mind. To accommodate production processes that can see large pieces of machinery assembled in a factory and then carried out on the same transporter to barges or road transport, they have been designed to work on a variety of surfaces – whether they are made of gravel, asphalt, concrete or similar materials.
While some users want highly customised transporters and trailers that must be built to order, many will want equipment more standardised. For transporter manufacturers competing in this segment, speed of delivery has become an increasingly important focus. This has driven the launch of modular systems of design, such as Faymonville's MaxTrailer line and Doll's Rapid units.
Semi-trailer launch
Doll launched a three-axle semi-trailer in its Rapid line in 2021, the P3H-Z18. Typical loads for the telescoping trailer include long materials such as pipes, steel girders, bridge sections, finished components and laminated beams, as well as general cargo and containers.
Thanks to the smooth telescopic extension mechanism in the central box frame, the loading surface can be adapted from around 13.5-21.2 m in length. The trailers feature three 10-tonne axles from BPW, with disc brakes, as well as a hydraulic positive steering system with a steering angle of up to 45° and electronic track adjustment when driving straight. It is also possible to steer the trailer via a radio remote control in tight spaces.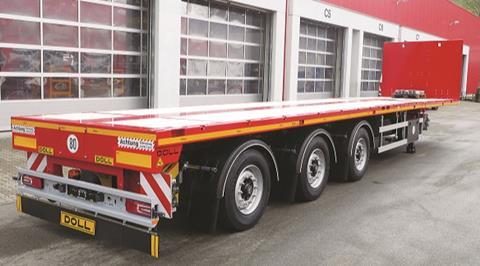 The driver can adjust the driving level via the Wabco Smartboard controller for the electronic air suspension. Full LED lighting with dynamic indicators, four pairs of ISO container lock housings, a spruce loading floor, a stainless-steel toolbox, and warning-sign and load-securing package are also included on the standard model.
The Rapid range allows for a degree of customisation, while still offering quick delivery and keeping costs down. For example, Doll said, the storage concept can be extended from one stainless-steel toolbox to two or even three (each measuring 1 m x 0.5 m x 0.5 m). Other options available include features such as a screw-on steel front wall, insertable side-wall structures, container locks, hardwood floors, shunting couplers and work lights.
The design of construction equipment is highly optimised. Plant must be as powerful as possible, and at the same time as small and light as possible. The same principle applies to the specialised transporters used to carry this equipment between jobs. By cleverly positioning trenches for excavator arms, and wells for their wheels, loads can be carried efficiently, without becoming too high to pass under bridges and other obstacles.
Flat load floor
Nooteboom's ASDV drawbar range is designed to meet the needs of this segment. A key design feature is the perfectly flat and continuous load floor, without intersection or gooseneck.
Due to the flat and low construction above the front wheels, the height of the entire load floor is kept to a minimum and can be loaded along the entire floor surface.
The main beams are positioned on the outside of the load floor, making this, Nooteboom said, the strongest on the market while adding to the service life of the trailer. With the option of an excavator trough between the rear wheels, the transport height of excavators can be further reduced.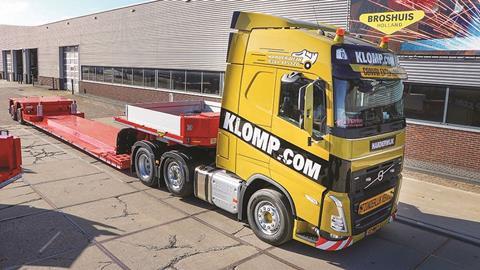 The latest model in the ASDV line is an updated version of the ASDV-40-22W. This now includes air suspension and an EBS braking system as standard. It is equipped with wheel wells at the front and rear, so that even larger wheel loaders and mobile cranes can be transported within permitted height clearances.
Depending on the chosen version and options, the two-axle drawbar semi low-loader, with two axles at the front and two at the rear, has a useful payload of up to 31.5 tonnes, when travelling at speeds up to 80 km/h.
The trailer is designed to be multifunctional, and can be used for transporting divisible cargo, containers and construction machines on tracks. When the wheel wells are not needed, they can be easily closed, creating a completely flat loading floor. For this purpose, removable galvanized supports with integrated sliding width enlargers and hardwood floorboards are available. Optionally, the wheel wells can also be completely filled with hardwood sections.
Moving houses
In much of the world, when we talk of moving house, we mean packing all our possessions into a van and carrying them from one home to another. But in some markets, that might also mean moving the house itself. This might be because land is cheap and construction labour expensive.
While there have been instances where heavier buildings have been moved using transporters, it is much easier and more commonplace in markets where timber and panel construction is used, rather than brick or stone.
Dutch firm Klomp Transport, based in Harderwijk, recently received the second of a four unit order of two-axle pendular axle low loaders from Broshuis, adapted for use in mobile home and chalet moves. The low loader is equipped with an ultra-low central beam with a large, lowered floor on the left and right. The trailer extends at the rear at the axle set so that it can easily be loaded and unloaded at the front, with the wheels under the chalet. It is equipped with fixed ramps at the front and a removable neck.
Everything has been considered, down to the last centimetre, in order to be able to load, unload and drive as quickly and safely as possible. The low loader can be operated with a remote control, increasing safety on site.
Loading chalets
There is also room on the axle set for a tractor to be used at the unloading locations. A winch attached to the front of the axle set makes it possible to pull the chalets onto the low loader. The technique is also popular in New Zealand, so much so that it has become a specialism for some removals firms. Supplying trailers to meet this demand has been one focus for local trailer manufacturer Tidd Ross Todd (TRT). The company is a distributor of Manitowoc Grove cranes in Queensland and New Zealand, and of Kobelco Cranes in Oceania. It also manufactures its own articulated chassis pick and carry crane, the TIDD PC28.
In 2019, it launched its electronic steering system (ESS), for its trailer line. This makes use of the individual axle steering approach common to all-terrain cranes. As journeys in New Zealand and Australia can be long, on rural roads with many obstacles, the system also features a jacking mechanism on each axle, with a vertical lift that raises the trailer bed from 0.85 m to 2.75 m. It is featured on both TRT's house trailers and large platform trailers.
This came in handy on one job this March in Tauranga, in New Zealand's North Island. One of TRT's customers is Prestige Building Removals (PBR), based, like the trailer manufacturer, in Hamilton, New Zealand. It has three- and four-axle house trailers in its fleet, with more on order.
Home removal
The company had carried a home 210 km from Auckland, in two pieces, each measuring 18 m x 5.5 m. At Tauranga, the home would be positioned high above the road, behind a garden retaining wall. The two trailers accessed the site through a driveway and placed each half of the house.
With the building in place, there was only room for one tractor trailer to exit the site along the driveway. The second tractor trailer would need to exit the site over the rear garden retaining wall.
The first was positioned on the road below, using its adjustable height axles as a ramp, to lower its partner to road level.