The crew of the largest self-powered land vehicle in the world are readying for the challenges of moving NASA's new Space Launch System.
Preparations are under way in Cape Canaveral, Florida, to make history with the inauguration of NASA's Space Launch System (SLS) – the most powerful rocket launch system since the 1960s. Developed to send astronauts to the moon and eventually Mars, the SLS will be used to launch the Orion spacecraft as part of the Artemis programme.
Before the rocket takes to the skies in the spring, the SLS will make its way to the Kennedy Space Center's launch pad 39B. Hauling the 6,713-tonne rocket stack will require the use NASA's Crawler-Transport 2 (CT-2).
Designed by Bucyrus Erie Company and built by Marion Power Shovel Company in the 1960s, it is the largest self- powered land vehicle in the world. It measures 40 m x 35 m, from ground level stands between 6.1 m to 7.9 m tall, and has eight tracks comprising 57 shoes apeice. It has a handling capacity of 8,164 tonnes.
Crawler capabilities
The crawler is able to raise and lower its sides and corners independently to enable it to roll underneath a mobile launcher (ML), pick it up and steadily carry it 4.2 miles (6.8 km) to the launch pad. Because each pad is built atop a sloping pyramid, the crawler uses its hydraulic suspension to keep the platform level before setting the platform in place.
First used for the Apollo programme some 50 years ago, CT-2 has been periodically upgraded to increase its hauling capacity, as NASA's SLS rocket system is roughly 20-25 percent heavier than its predecessors. The increased rolling mass comes, in part, from the 91 m tall, 5,150-tonne ML platform which holds the SLS upright.
The engineering systems division at the NASA Ames Research Center designed upgrades to six crawler subsystems and three critical crawlerway transitions.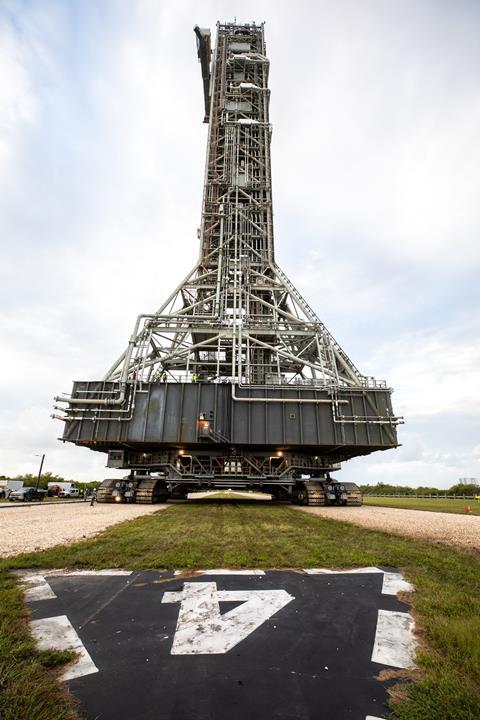 Upgrades included larger, redesigned roller bearings and their lubrication system; larger, redesigned jacking, equalising, and levelling (JEL) hydraulic cylinders; larger 480-volt onboard generators; a larger braking system; shear web structural stiffeners; rebuilt gearboxes; motor control centres; new engine and pump ventilation systems; new diesel engine radiators; and replacements of the two driver cabs on each end of the vehicles. Other works consisted of engine panel upgrades, installation of two new 1,500 KW generator sets, refurbishment of traction motor gear boxes, installation of new bearings, and refurbishment of its multipurpose purge unit platform.
Modifications
In total, 45 areas were worked on for a total of 32 modifications that took place from 2011-2016. Since then a series of tests have been completed, including the pick-up and transport of the launcher platform; it takes over eight hours of driving to get from the vehicle assembly building to the launch pad at a speed of less than 1.6 km/h. Drivers swap out every 45-60 minutes to prevent fatigue.
Breanne Rohloff, crawler systems engineer and driver for NASA contractor Jacobs, explained: "The team consists of dozens of engineers and technicians that huddle up a few hours before a roll to the launch pad to review the operation, talk safety, and discuss who is in charge of each task. We switch positions throughout the roll to keep fresh eyes on the systems; we all work together to execute a successful rollout."
This article has been taken from HLPFI's March/April 2022 edition.