Iraq is moving ahead with several projects that will make better use of its bountiful natural resources. A number of developments are the in pipeline and the prospects look bright for the supporting logistics sector.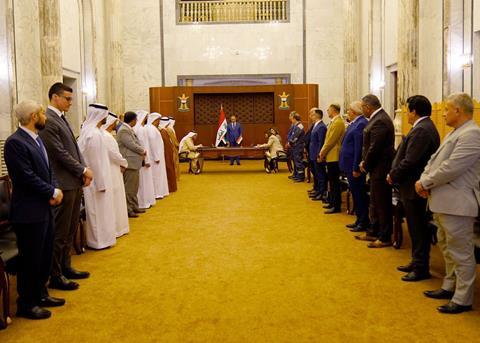 Last year, HLPFI reported on Iraq's discussions with French energy supermajor TotalEnergies to develop renewable energy projects in the country. The hope was that these resources could help ease the pressure on the country's electricity supply; despite having access to huge crude reserves, fuel shortages continue to cause hours of power outages.
Since that report, ties with TotalEnergies have tightened. During September, the company signed deals worth USD27 billion for four massive energy projects in the Basra region of the country, albeit only one focused on renewable energy development – a deal with the Ministry of Electricity for a 1 GW solar energy project near the port of Basra in southern Iraq.
The plant will join other solar projects currently under development in the country. Power Construction Corp of China (PowerChina) is planning a 2 GW plant that will be developed in multiple phases. PowerChina said construction is likely to commence in 2023 and expects it to enter commercial operation in 2024. Other projects are being planned by UAE-based renewable energy company Masdar, which signed an agreement with the Iraqi government to develop five solar photovoltaic plants in the region.
Solar photovoltaic plants
Masdar's facilities will have a combined capacity of 1 GW and will be located in four different areas of the country: the largest will be a 450 MW plant in the Dhi Qar governate in southern Iraq; two will be located in the city of Ramadi, with capacities of 100 MW and 250 MW; and the remaining two will be in Mosul and Amarah respectively, each with an installed capacity of 100 MW.
TotalEnergies' projects are now moving forward to the execution phase of its agreements, although the first one out of the gate will be work on a Common Seawater Supply Project (CSSP) – a large-scale seawater treatment unit that will increase water injection capacity in southern Iraq fields.
The project, which will see an initial investment of USD3 billion in its first phase, involves taking and treating seawater from the Persian Gulf and then transporting it via pipelines to oil production facilities to maintain pressure in oil reservoirs to optimise longevity and output.
Other deals include supporting the Iraqi authorities with installations to recover gas that is being flared at three oilfields. The construction of a gas gathering network and treatment units will help supply local power stations. TotalEnergies will also bring in expertise to optimise the oil and gas production of the Ratawi field by building and operating new capacity.
Sustainable future
"These agreements signal our return through the front door to Iraq, the country where our company was born in 1924," said Patrick Pouyanné, TotalEnergies' chairman and ceo. "Our ambition is to assist Iraq in building a more sustainable future by developing access to electricity for its people through a more sustainable use of the country's natural resources such as: a reduction of gas flaring that generates air pollution and greenhouse gas emissions, water resource management and development of solar energy.
"This project perfectly illustrates the new sustainable development model of TotalEnergies, a multi-energy company, which supports producing countries in their energy transition by combining the production of natural gas and solar energy to meet the growing demand for electricity. It also demonstrates how TotalEnergies can leverage its unique position in the Middle East, a region where the lowest-cost hydrocarbons are produced, to gain access to large-scale renewable projects," he added.
The deals exemplify Iraq's ambition to diversify its energy market, something that is evident across the Middle East in general. Positive indicators from the region's traditional energy sources, as well as the emerging renewable energy sector, bode well for project logisticians.
New offices
Hoping to tap into the prospect of investment in the traditional energy market and the foray into renewables in both Iraq and Saudi Arabia is Blue Water Shipping, which opened offices in the countries earlier this year.
Thomas Bek, chief operating officer – energy, ports and projects, said: "We see significant synergies between the oil and gas sector and the renewables sector, as some of the companies that traditionally operate in oil and gas show an interest in diversification within renewable energy. We have, during recent years, also consolidated our subject matter expertise within the two sectors into one division – Energy & Projects. In this way, we support our customers' needs more effectively by drawing on our overall experience and competencies within Blue Water."
Peter Ehrhorn, regional director Middle East and CIS, added: "With the new locations, we are in a significantly better position to provide local service in the region based on our international experience in offshore and onshore wind, solar energy and green hydrogen. We have seen a significant increase in demand for logistics services executed by those providers who can showcase experience in creating and implementing unique solutions that fit in with local conditions."
In general, the mood about the project logistics market in the Middle East is positive. Those spoken to by HLPFI at the Breakbulk Middle East exhibition held in Dubai during February were upbeat about the sector's prospects, despite continuing supply chain volatility and unpredictability about pricing.
While recovery from Covid-19 is on the horizon, supply chains are still struggling and delays are increasing. According to Rolando Gächter, director Middle East development at Independent Project Analysis (IPA), delays in vendor supply chains had improved by mid-2020 but in the third quarter of 2021 delays were more akin to the situation at the beginning of the pandemic.
Causes of disruption
His presentation at the conference put forward the results of a project owner survey, shedding some light on the main causes of disruption. One half of the owner companies said that logistics is a significant source of supply chain disruption.
Limited vessel availability, a lack of resources at ports, bottlenecks due to containership congestion and rising logistics costs are all contributing factors. Added to that, there are concerns about how engineering companies will respond to increased activity, with some of those surveyed highlighting diminished skills and capabilities.
Mitigation strategies for the owners, Gächter said, include looking for alternative vendors, developing relationships with contingency supply chain vendors, asking suppliers to utilise alternative inventory locations, placing orders earlier and requiring weekly updates. There are plenty more kinks in the chain to iron out before 'normal' service can resume.
This article has been taken from HLPFI's March/April 2022 edition. Read the full report here.