Two global serial production manufacturers of heavy lift cranes, Tadano and Liebherr, have launched products that offer increased stability and improved load charts. Will North reports.
Last year's bauma exhibition highlighted a key trend in the recent development of heavy-duty cranes – lattice boom cranes feature increasingly wide lattice sections, which increase the performance of these canes across their load chart.
Tadano's exhibit was the first since the company acquired Demag mobile cranes from Terex. In the three years since the acquisition, the company's German business entered into a period of court protection, during which it negotiated a corporate restructuring with creditors and workers' representatives. Coming out of this process, it has established a new unified branding – dropping the legacy Faun and Demag names, and developing a new model nomenclature – and streamlined activities at Lauf and Zweibrücken.
Heavy-duty crane boom booster kit
So this was an opportunity for the company to show what it could deliver with its new structure. On the stand, the company demonstrated two products focused on the heavy lift sector. The newest of these was a boom booster kit for its 1,250-tonne crawler, the CC 68.1250-1. The kit, which has previously been offered on the smaller CC 38.650-1 and larger CC 88.1650-1, promises to increase the main boom's stiffness, boosting the crane's lifting capacity by up to 30 percent. Boom booster kits for the CC 68.1250-1 are available in lengths of up to 102 m, enabling the crane to reach a hook height of 194 m with the additional boom sections.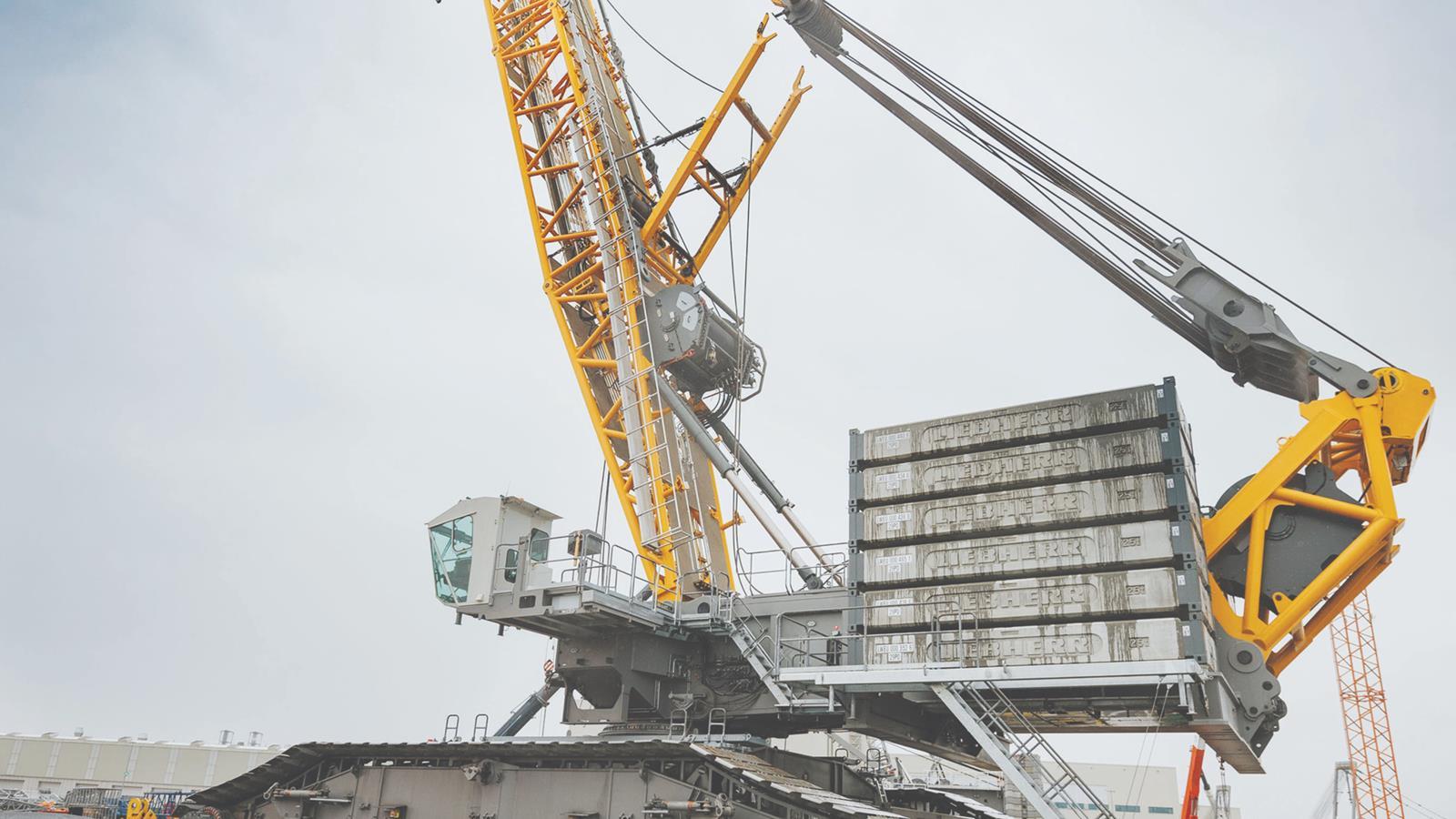 Liebherr's LR 12500 is designed from scratch for an extra wide boom system.
Tadano also showed off one of its PC 38.650-1 pedestal cranes. Like the boom booster, a pedestal crane – where a lattice boom is mounted not on a crawler but on a fixed platform, fulfilling essentially the same role as an all terrain's outriggers – offers increased stability.
The supporting structure, Tadano said, not only offers the same lifting capacity of 650 tonnes at a radius of 12 m as on the pedestal crane's crawler counterpart, but also an increased load moment of up to 8,784 tonne/metres. The crane's hydraulic support cylinders can compensate for slightly irregular terrain, meaning that a levelled support surface is not always required for certain jobs and that the time-consuming work of preparing the ground can be omitted in these cases.
Tadano's PC cranes are fitted with an integrated adapter, which means that the centre frame can be coupled to SPMTs or other modular axle lines. The PC 38.650-1 support structure is also optionally available as a pure carrier that is compatible with the boom of a standard CC 38.650-1 crawler crane. A similar PC kit isavailable as an option on the CC 68.1250-1.
Liebherr has gone even further with the adoption of wide boom systems on its crawler cranes. Its system has been offered as an option on many of its crawlers, where it is designated the power boom. On its latest super-heavy crawler, the 2,500-tonne LR 12500-1.0, the wide boom system – which Liebherr is calling, in an English approximation of the German language's famous compound nouns, HighPerformanceBoom – is offered as standard. By designing the crane from the start for a wide boom system, the designers at Ehingen have been able to optimise its connection to the slewing ring.
This is made possible, Liebherr said, by a special superstructure front section, which is transported on a lowbed trailer at a width of 4 m. While the integrated design of the HighPerformanceBoom does require the transport of two of these oversized loads, the rest of the crane's components have been designed to standard widths of 3.5 m, with many components, such as crawlers and ballast slabs, designed to fit in containers or within container dimensions, allowing for easy handling with a spreader beam.
As the energy transition continues to push the weight of components like wind turbine nacelles and the height to which they must be lifted, we should expect further adoption and optimisation of wide boom and levelling systems, particularly on super-heavy lattice boom called truly heavy lift cranes. Cranes like this can be used to lift and place loads of hundreds of tonnes at useful distances. Liebherr's new all-purpose heavy crawler, the 400-tonne nominal capacity LR 1400 SX can, for example, can lift 200 tonnes to a radius of 10 m, with a 44 m main boom.
This crane, also on show at bauma and the tallest exhibit on the Liebherr stand, marked a significant turning point for the Nenzing factory. The plant has specialised in crawler cranes for general purpose use, with simpler designs and fewer boom configuration options than those built in Ehingen, Germany. For many years, this has resulted in an apparent capacity split between the two factories: cranes up to 300 tonnes were built at Nenzing, in Austria, alongside heavy-duty cranes for tasks like piling; cranes over 300 tonnes were built at Ehingen, alongside telescopic cranes and carriers for the Biberach tower crane plant's MK mobile construction cranes.
Ease of use
But that was only ever an arbitrary and somewhat illusory division. Many more routine construction tasks now require a high capacity crane, but not the large range of boom configurations offered by the German plant. The new 400-tonner very much focuses on easy and cost-effective transport, set-up and use.
With a compact transport weight of 46 tonnes, Liebherr said the complete crane can be transported easily between jobsites. Platform and railings remain attached to the upper structure during transportation and only need to be folded down. Thanks to the crane's self-assembly system, the boom sections, carbody counterweight, crawlers and hoist winches can be easily assembled and disassembled without the need for an auxiliary crane. The crane can even hydraulically lift, lower and secure the 150-tonne rear counterweight without assistance. The rear counterweight itself is modular and can be equipped with 5-tonne or 10-tonne counterweight slabs, depending on requirements.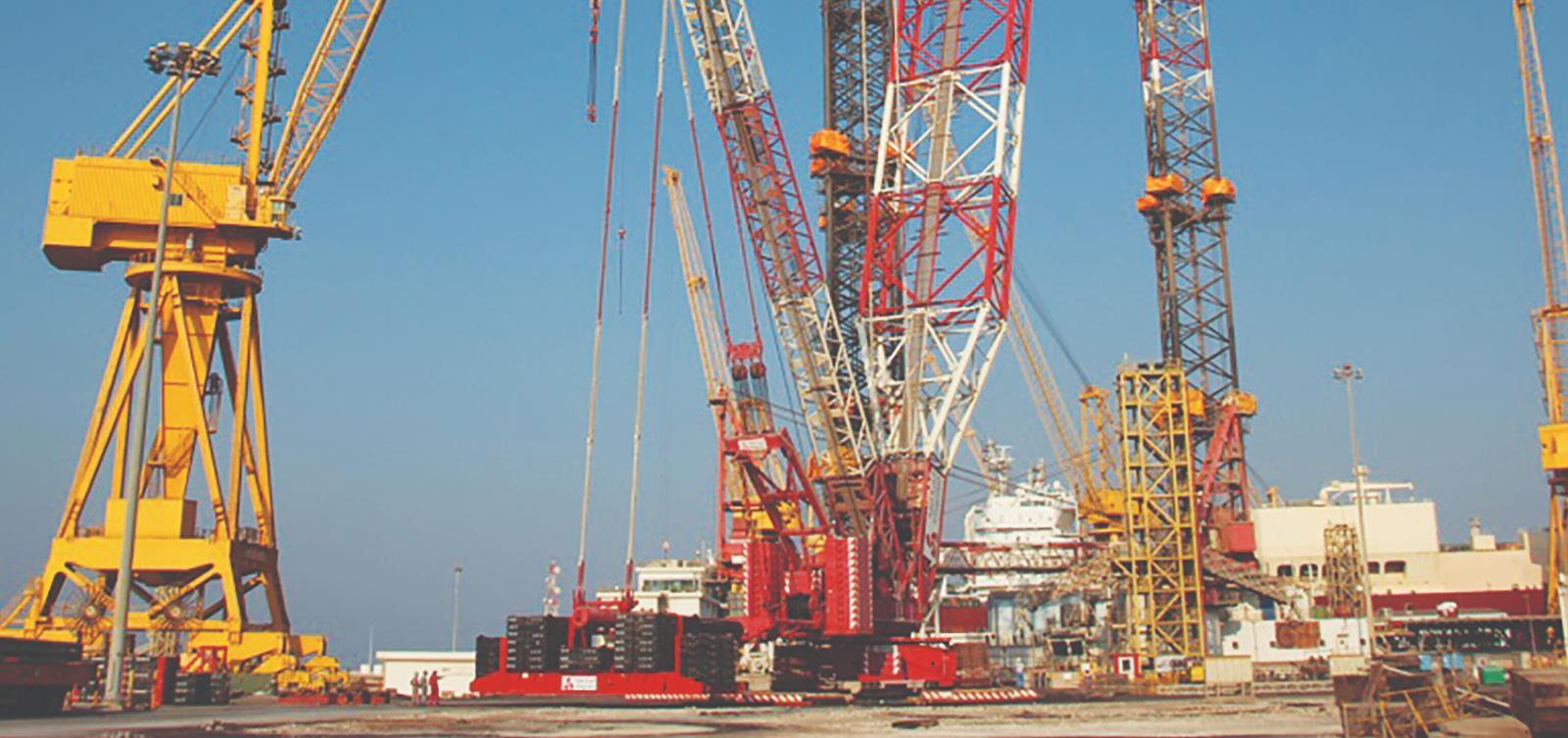 One of Tadano's largest single boom crawlers, at work for Integrated Logistics Co in Kuwait, fitted with a boom booster kit.
All-terrain cranes, like Tadano's AC 7.450-1, are designed more for easy set up and reach than for the highest capacity lifts, so their nominal capacities bear even less immediate relation to what they may actually be used to lift. However, this seven-axle, 450-tonne nominal capacity crane can still lift 195 tonnes a couple of metres away from the crane, and more than 100 tonnes at a radius of 10 m.
Showing the seven-axle crane at bauma, Tadano highlighted its compact carrier dimensions. It is just under 16 m long. This, Tadano said, is close to the length of many six-axle cranes, but still allows it to carry a boom system of capacities more common in the eight-axle class. The crane is fitted with a surround view camera system, further improving operators' ability to transport and move the crane with confidence.
The all-terrain segment above this mark increasingly focuses on improvements in reach, more than brute lifting power. Across the segment, 60 m main booms have become more or less standard. At higher capacities, booms of 80 m or more are beginning to be offered.
The largest all-terrain on the market, the LTM 11200-9.1, is designed to work with a widely configurable 100 m main boom system. While this is composed of two main telescoping parts, and is designed with boom-mounting onsite in mind, it has for many years competed in the wind energy industry, where its relatively fast assembly compared with crawler cranes made it a useful tool for erecting turbines.
However, as turbine sizes and heights have increased, allterrain cranes have largely been superseded by lattice boom cranes. They are much more likely to be used for jobs such as tower crane disassembly or positioning of relatively light, but tall, vessels in refineries and chemical plants. Here, their easier set-up and transport makes them a compelling option for lifting at height in constricted environments.
True heavy lifting remains largely the preserve of lattice boom cranes. Kobelco's range of lattice boom crawlers marketed in Europe tops out at the 300-tonne CKE3000G-2: big, but not really what would count as a heavy lift crane. At home, in Japan, the company offers larger models, up to the 1,250-tonne SL16000J-H.
Manitowoc makes a stronger showing in medium-heavy crawlers, with five models in the range from the 400-tonne Model 16000, through to the 750-tonne Model 18000. The range includes the MLC 650 VPC-Max which, with its stillinnovative extending ballast system, is able to achieve substantial lifting power when working from an extremely tight footprint.
Chinese giants
Some Chinese manufacturers have developed large crawlers, into the thousands of tonnes, but to the best of my knowledge none of these have sold into or been used in Western markets. It is hard to say whether these cranes' design and manufacture is up to the standards of international users; what can be said with more certainty is that the after-sales and engineering support that Chinese companies can offer does not give these users a great deal of confidence.
Like the market for larger allterrain cranes, serial production of very large crawlers over 700 tonnes, for global sale, is largely limited to the two companies whose bauma exhibits we considered at the start of the article: Liebherr and Tadano.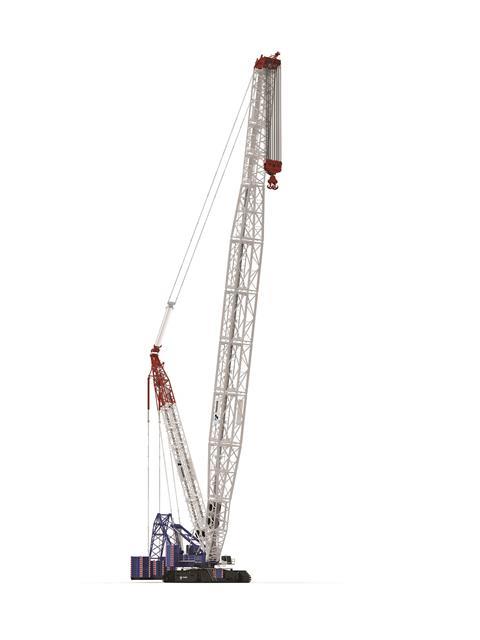 One limiting factor in this market is space at the test bed. A lot of concrete has to be poured and reinforced over a very large area in order to assemble and proof-test multiple large crawlers at the same time. It helps to have deep-pocketed owners with long-term approaches, who are willing to look beyond the next set of quarterly financial reports, to compete profitably in this market.
Liebherr's Ehingen factory, which focuses on 'critical lift' crawlers – rather than the all-purpose cranes built at Nenzing – has been busy over recent years, expanding its test area and filling out its range at the highest end of the crawler class. The recently launched LR 1700- 1.0 replaced the successful LR 1600/2. Like the MLC 650 VPCMax, it features a ballast suspension system, V-frame, which allows it to extend ballast without increasing its footprint. Above this are five cranes: the 800-tonne LR 1800-1.0, 1,000- tonne LR 11000, 1350-tonne LR 11350, 2,500-tonne LR 12500, and the 3,000-tonne LR 13000.
Wind market
Sales of 600-tonne capacity crawlers were for many years driven by the wind energy market. The new LR 1700-1.0 also aims at this sector, and its design is compatible with many components of its successor. Its higher capacity is achieved through the design of the new base machine, whose static structure has been completely redesigned to deliver up to 15 percent more lifting capacity.
The structural steelwork for the crawler carriers has been made particularly robust, Liebherr explained, and the size of the rollers increased to minimise wear when moving on the crawler travel gear. The four-way drive for the travel gear is standard. The modern derrick system has V-frame, VarioTray and the new 'M-Wagon' modular ballast trailer. In addition to the LR 1700-1.0, this can also be used for the LR 1800-1.0 and the LR 11000.
Liebherr's main rival for the largest crawlers is Tadano, which acquired Demag's all-terrain and crawler crane facility in Zweibrücken from Terex.
Cranes from that site, as well as telescopic cranes built at the former Tadano Faun site in Lauf, are now sold under a single Tadano brand name, reflecting a recently unified approach to design, manufacturing, sales and support.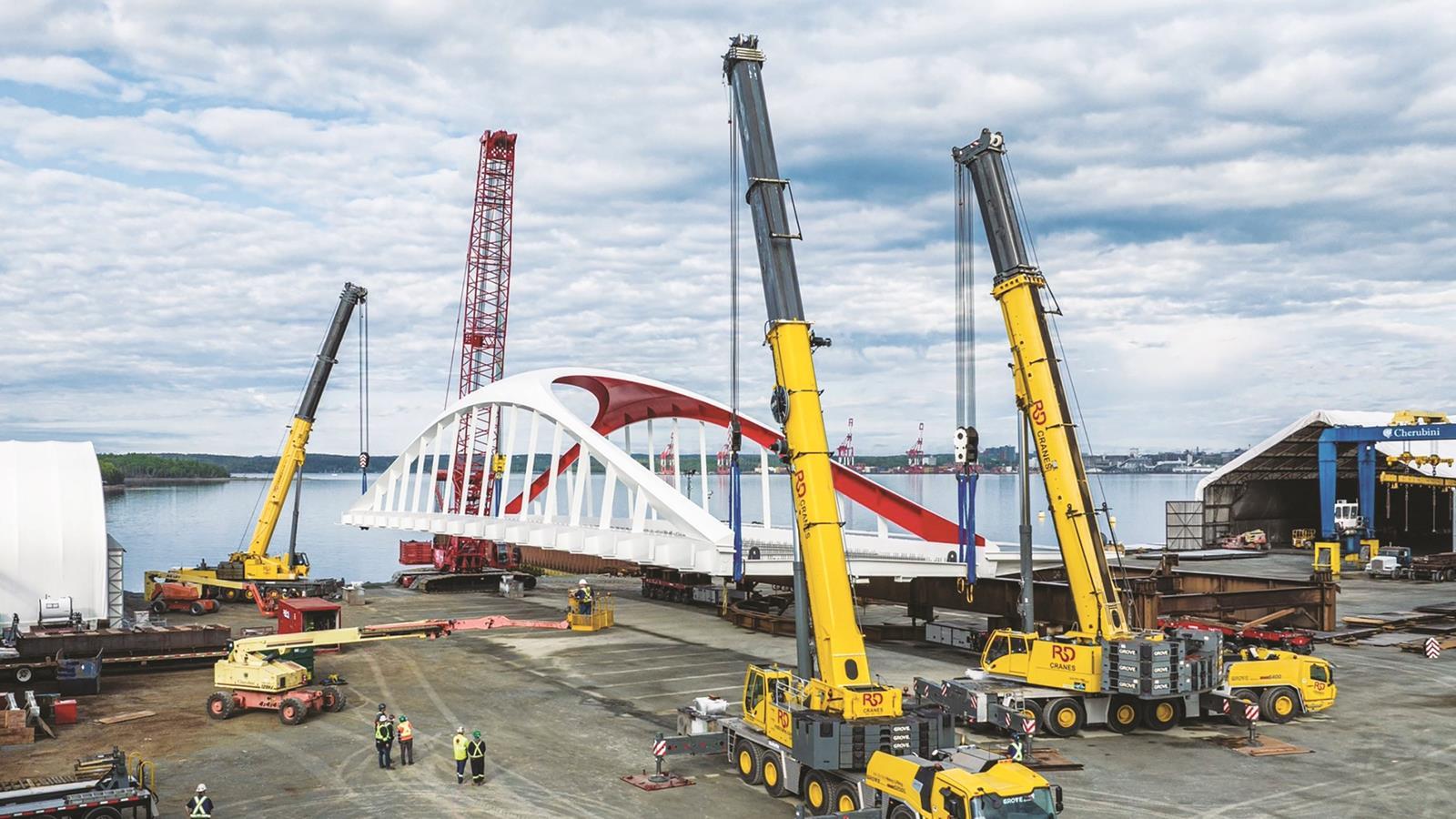 Canadian customer R&D Crane used one of the Shady Grove manufacturer's Model 16000 crawlers, along with three of its Grove all-terrain cranes, on a 466-tonne bridge lift.
Tadano range
The Tadano range is slightly more limited in breadth than Liebherr Ehingen's. It comprises five heavy lift crawler cranes. The CC 24.400-1 competes with cranes like the Liebherr LR 1400 SX. In the middle of the class the 600-tonne CC 28.600-2 and 650- tonne CC 38.650-1 compete with Liebherr's LR 1700-1.0 and Manitowoc's MLC 650 VPC-Max. Above this mark, the company offers two cranes to rival Liebherr's giants: the 1,250- tonne CC 68.1250-1 and the 1,600-tonne CC 88.1600-1.
The two German facilities' lattice boom ranges are not limited to conventional single boom crawlers, however. At the top of the Tadano range is the CC 88.3200-1 Twin. This crane takes two boom systems from the 1600t CC 88.1600-1 and mounts them side-by-side on one crawler base.
Together, the two booms can compete with Liebherr's largest crawler, the single boom LR 13000; separately, they can each be used with a standard carrier as a 1,600-tonne crane.
For a crane owner with regular heavy work, and enough occasional very heavy work to justify the cost of the Twin's additional components, this may be an appealingly flexible option.
Demag – and now Tadano – have had steady sales of pedestal cranes over the years. Zweibrücken's current model is the 650-tonne PC 38.650-1. The advantage of a crane like this is that it can be levelled on its pedestal base. When lifting a big nacelle to the top of a wind turbine, even the slight puddlepreventing slope of a hard stand can pose a serious challenge. A pedestal base helps avoid this, while an SPMT-style carrier aids site movements.
Another way to avoid the problem of tilt on high and heavy lifts is with a crawler crane upper, mounted on a wheeled carrier, and equipped with outriggers.
Some of the first high capacity road mobile cranes took this approach. With the development of long and strong telescopic booms these were largely replaced by all-terrain cranes, which do not require the same space for boom set up.
Continuing tradition
But Liebherr's LG 1750, which mounts an LR 1750 upper on a purpose-built eight-axle carrier, capable of road speeds up to 80 km/h, continues the tradition. Like the Tadano pedestal crane, it offers the perfect levelling needed for confident high and heavy lifting, while being arguably easier to move on narrow temporary roads than a partially assembled crawler crane.
This article has been taken from HLPFI's Jan/Feb 2023 edition, read more here.