With the world in turmoil, project logistics providers are operating in an environment where the only certainty is uncertainty. David Kershaw takes a look at how companies are coping and at where the markets may be heading.
As the project logistics industry adapted to what could be described as a post-Covid-19 environment, Russia threw Europe into turmoil by invading Ukraine. Meanwhile, tensions continue to ratchet up in the Far East with relations between China, Taiwan and the USA deteriorating by the day. The results: cost inflation and further supply chain disruption. Project freight management has become an increasingly complex undertaking.
Logisticians have found themselves at the top managerial tables, increasingly being seen as a value driver when it comes to executing large-scale capital project deliveries.
Dominik Keller from Switzerland-headquartered freight forwarding group Fracht, shared his views on how the project logistics business is developing: "With some customers we are getting involved in the very early stage of a project and this number has increased since the start of the widespread supply chain disruptions. But we would like this number to increase, as it is for the benefit of the customer to do it.
"[As a logistics services provider] what you need to present to clients is a plan B, knowing that today the only certainty is the uncertainty and the only reliability is unreliability. If you look at world politics in Russia, Iran and the China-Taiwan crises, you do not know, where this ends.
"It could get even worse, although of course, we all hope it does not. But, as the saying goes, 'if you want peace, prepare for war'. In business it is the same principle: prepare for the worst."
With such market volatility, minimising supply chain risk is increasingly important to shippers. Needless to say, given recent events, such risk is impossible to eliminate entirely.
Knowing your partners
"What helps in difficult times," said Keller, "is knowing your partners, fully trusting them, knowing they are also 'involved'. This means you can call them day or night, Saturday, Sunday, during holidays… especially given that projects are not Monday to Friday, eight to five tasks.
"It helps enormously if you have known them for years; it is even better if they belong to the same company. Ultimately, every company also has its own respective objectives, one being to earn some money." When working with partners, there might be what he called "additional interests" and that it's "definitely an advantage if you have your own global network".
The forward-looking prospects for project freight forwarders are promising as well. Volumes, driven by increasing investments into both traditional oil and gas and renewable energy markets, are generating a fair amount of confidence. Of course, there is a great deal of uncertainty on the macroeconomic stage. However, the greatest burden affecting forwarders will continue to be multipurpose tonnage availability. The supply side of the equation is proving hard to balance.
Keller said of Fracht's project pipeline: "We cannot say that we are happy. This is because some nice projects have been 'sold' below costs or at contract terms, which we could not accept. One cannot say that we are risk averse, but there is of course a limit to everything. In the end, we believe, our way will pay out.
"The project market, in general, is not too bad for the upcoming period as there is need for infrastructure everywhere. The change in energy supplies, mix and suppliers will bring huge projects around the globe. We are less optimistic for the general cargo market, as this one is being driven by local consumption. The project market is driven by strategic investments."
Keller added that, right now, carriers are in control of the market and they are taking advantage of their position. "Most lanes run at capacity or 'over-capacity' – and such a thing as over-capacity does not exist. Full is full. So, this creates a vicious circle of disruptions creating more disruption.
"We need a certain period of 'under-capacity' to clear up the backlog. In most markets, we would say, we are in this period now, but it is clear during this period the rates will still stay high. Every further disruption will again exacerbate the problem.
"But with higher interest rates and a recession, which also comes partly from the political problems, capacity problems will most probably end in some months. Three or six months… it is difficult to say and with the prefix of all seafreight quotations all going well."
Most lanes run at capacity or 'over-capacity' – and such a thing as over-capacity does not exist. Full is full. So, this creates a vicious circle of disruptions creating more disruption.

- Dominik Keller, Fracht.
Rate regression
After nearly two years of surging multipurpose rates, data from various brokers and analysts suggests that we may now have passed the zenith and are now witnessing the start of a gradual rate regression. Still, forecasting anything in today's environment is fanciful and even a European war and looming recession have done little to dull the heat of the multipurpose shipping market.
Shipbroker and industry analyst Toepfer Transport's August 2022 time charter index suggested that the average daily multipurpose time charter rate for a 12,500 dwt/F-type heavy lift vessel fell slightly to USD22,954. Month on month the rate is down 0.78 percent. The Hamburg-based broker said that "market participants are still fixing for high levels though pressure begins to rise. The first indicator of the market slowing down is the time charter length and we see a definitive drop there. Most operators are hesitant to commit to these still high rates for a longer period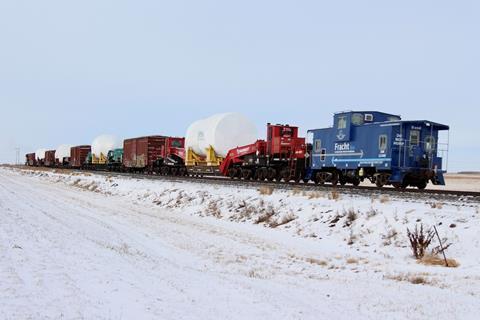 Uncertainty
Toepfer attributed this to greater macroeconomic uncertainty, something that is expected to grow with China now concluding military training at the border of Taiwan. It added that the "sideways trend" in its index suggests that market participants are still in an overall good mood.
"The large investments from countries around the world in renewable energy, as well as oil and gas, should provide the multipurpose sector with large cargo volumes for the years to come," it said.
The Drewry multipurpose time charter index – which takes in both the heavy lift/project carrier and shortsea chartering markets – also fell slightly over the course of July to USD10,925 per day. The 1.1 percent slip over June 2022 was attributed to global uncertainty about the economy, with operators hesitant to commit to long-term charters at current high levels. The shipping analyst expects the rate to drop 0.7 percent over the summer to USD10,850 per day.
"The increasing worries about inflation in Europe and the USA, coupled with China's response to the visit of Nancy Pelosi [the speaker of the US House of Representatives] to Taiwan, has meant that macroeconomic uncertainty remains one of the bigger drivers for this sector. At the same time handy [size bulker] spot rates and the smaller container vessels saw charter rates continue to fall over July, as activity levels fell as the European holiday season started," said the analyst.
Multipurpose shipping, traditionally, tracks behind the booms and busts of the overall economy – around 18 months or so – owing to the long-term nature of contracts signed. However, with reports of charters being signed off into 2025 for high-end tonnage and limited multipurpose newbuilding activity continuing to constrain the supply side of the equation, there is no reason to believe that rates will tank in the coming years.
There is also no indication that an influx of newbuilds will appear anytime soon. Yards are full building 7 million teu of new containership capacity, for instance. Furthermore, urgent demands for diversified energy supplies and the green energy revolution should help to alleviate a large part of the pressure that would manifest should 2023 prove to be a year of recession for some nations.
Market sentiment
Germany-based One World Shipbrokers' sixth market sentiment index (MSI) dipped slightly for the second time in succession – from 58.8 out of 100 in January to 58.7 in April and 57.5 in July (anything above 50 is deemed 'positive').
The shipbroker, which gathers forward-looking data from across the multipurpose and heavy lift shipping sector, suggested that a market correction has been expected for some time.
However, it believes that the present situation could be viewed not so much as a dip but a necessary waypoint in a longer-term growth story.
"Several respondents [to the MSI] note that summer season European/North Atlantic demand has softened, and another points to recent changes in pricing strategy at Chinese state-owned carriers creating new pricing pressure. But there is also general agreement among respondents that markets are expected to remain firm in the longer term and confidence among the cohort remains high as the chase for energy – particularly renewables, continues apace.
"Upstream oil and gas is also signalling a renaissance and will eventually pass down projects that will vie with breakbulk cargo to occupy some of the more technical vessels in the multipurpose fleet. Together with the healthy forward order books that are reported and no significant new tonnage arriving, there is reason to believe that supply will tighten going into what is usually the most active periods of the year."
Whilst the index has fallen marginally there does appear a distinction between what is occurring now, the immediate trading environment ahead, and what is expected further in the future.
Responses to questions concerning the near term showed a tendency to be less positive than those questions reflecting the longer term. It's not unusual for the multipurpose/ heavy lift industry to be impacted by the northern summer vacation season but coming at a time when a correction was forecast, perhaps the feeling is just a bit more muted than has been of late.
Cargo volume outlook Nevertheless, whereas the shortterm 'cargo volume outlook' has fallen 2.5 percent from 59.9 in the last MSI to 58.3 in this edition, carriers' forward orderbooks, which have been lengthening consistently in the last 12 months, experienced only a very marginal drop in this survey from 60.4 in the last edition to 60 in this edition. Sentiment remains very positive for carriers in the longer term despite all the headwinds and with no significantly new tonnage arriving in the medium term and many new industrial projects in the planning, charterers it would seem are aware of the potential for a supply crunch.