Under-the-jib attachments are a vital component of lifting systems. While they may be small compared with crane and load, they are a critical element in ensuring lifts are performed safely and efficiently.
The rapid development of crane capacities over the past half century has revolutionised how we build – from refineries to skyscrapers, structures can be constructed out of large and often heavy modules far more quickly and safely than is possible using traditional methods. Raw lifting power is not enough on its own, however. Loads must be balanced and controlled as they are lifted.
The simplest under-the-jib attachment is a lifting beam. This consists of a beam with one lifting point at the top centre position and two below at the ends of the beam. The beam deflects, ensuring the load is carried through both bottom slings and beam, up to the hook.
A spreader bar typically has lifting points or connections at both ends, both above and below. Slings or chains typically attach in a triangle to the top lifting points, linking these to the hook and compressing the bar; below, further chains or slings may connect straight down to lifting points on the load; or, again at an angle, to further spreader beams below.
Multiple tiers of spreader beams can be configured to keep large loads balanced and to distribute the load across lifting points, which may have limited capacity.
The capacity of spreader bars has increased rapidly in line with that of heavy lifting devices. A good example of this is a recent deal signed by Dutch specialist lifting equipment manufacturer Huisman.
Giant spreader
The company is currently building a 3,000-tonne spreader for Seaway 7, which will be able to handle even the largest offshore wind turbine monopile foundations. As well as its huge capacity, the spreader features a hands-free sling attachment, using a battery powered remote control system.
Huisman builds devices like this to order, using proven design approaches. That is ideal for a client like Seaway 7, which can expect consistent demand for broadly similar lifts, many years, if not decades, into the future.
But what of those companies that take on a wide variety of jobs?
In the past, a general hirer, or heavy lift specialist, that took on different jobs with loads varying widely in size and weight would have needed either to keep a large number of fixed length lifting beams and spreader bar, or to hire them.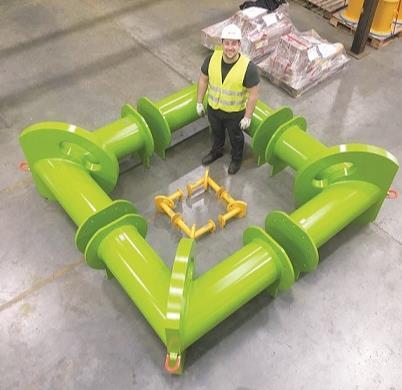 Modulift pioneered a new approach to this problem, offering beams in different sizes designed to be bolted to each other, and to end points or corner pieces. The beauty of a system like this is that a company with, perhaps, two 1 m sections, a 3 m section and a 5 m section, can construct beams of 1 m to 10 m in length. It will essentially have a choice of 10 beam lengths, from just four components.
Another advantage of the Modulift approach is that multiple small components can be more easily transported and handled than one big beam. The company's largest beam is just 6 m long, small enough to fit into the back of a truck; many beams, the company said, can be handled manually.
Modulift innovates under-the-jib
Each Modulift beam has a flange at either end so that it can be attached to either another beam or an endpoint. Each endpoint has its own flange, for attachment to the beams, and attachment points for slings or other rigging. The company also offers corner pieces. These are right-angled sections, again with a flange at each end and attachment points. They allow for Modulift beams to be formed into a square, or rectangle, giving control of the load, and load balancing, in two axes rather than one.
The company's latest development is its biggest ever corner piece. The CMOD 250 can handle loads of up to 300 tonnes. It features a new improved design that, Modulft said, reduces the contact stresses between the top shackle bow and corner unit centre plate.
The first CMOD 250 units were ordered by Safe Lifting Europe and by I&I Sling Co in the USA. Jacques Vroegop, Safe Lifting Europe's operations manager, said: "Modulift always has a solution for us when we have a complicated lift and we were surprised with the CMOD 250. The size of span that it can reach is phenomenal, it really can be a huge frame and we cannot wait to use it later in the year." In the USA, I&I has a job lined up for its first CMOD 250 pieces, which will be used on a heavy lift being carried out by a customer at a shipbuilding yard.
A key aspect of below-the[1]hook rigging is that, in many cases, rigging configurations will use multiple simple components. It is easiest for customers if they can deal with a single supplier for this equipment.
The benefits of being able to rely on a single supplier also apply on the manufacturing side. That appears to be the aim of investment company KKR, which in 2013 acquired Crosby and Acco. Since then, Crosby has gone on a buying spree, acquiring lifting equipment and accessory suppliers around the world. In just the last year, it has acquired Japanese hoist manufacturer Kito; Spanish rigging company Airpes, which develops systems including wind turbine blade clamps; lashing manufacturer Speedbinders; and British camera and alert system innovator BlokCorp. Deals like these allow Crosby to offer a wide range of lifting equipment. As the sector incorporates ideas like Industry 4.0 and the Internet of Things (IoT), whereby devices on a site or facility transfer data between themselves, the company will be well placed to combine both lifting tools and sensors, making new approaches to lift monitoring and automation possible.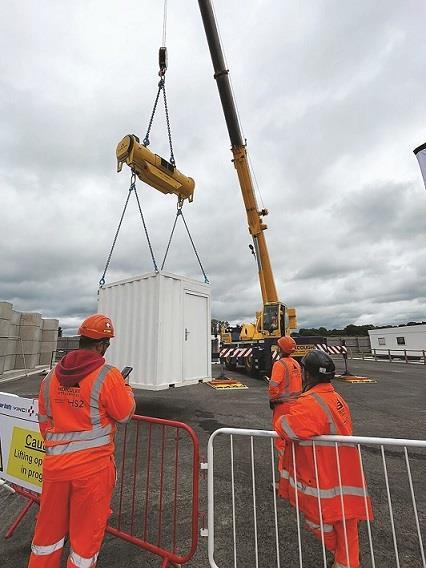 But the company's development has not just been reliant on having access to KKR's capital. Equally important is innovation. Recent new products from Crosby included a selection of clamps and pipe hooks, often used in wind turbine tower fabrication, as well as in other applications where handling steel pipes, tubes and plates is important.
A challenge here is holding the load securely, without damaging the steel. Design features of Crosby's clamps aim to minimise this. The camsegment and pivot, the components that clamp together, in the CrosbyIP range (named following the acquisition of clamp manufacturer Inter Product), are shallower than on previous designs, but with more pieces contacting the load. This reduces the depth of indentations left on the load. When manufacturing components like turbine towers, this reduces the time that must be spent reworking the piece to repair this damage.
The CrosbyIP range features both standard and custom products. Recent examples of custom manufacturing include the 22.5-tonne capacity special universal vertical clamp IPU10X3. The clamp, which was designed for a German wind energy manufacturer, features an extra-wide camsegment and three pivots for reduced surface pressure to further minimise indentations. A deep jaw, meanwhile, allows for lifting bevelled plates and constructions. Lifting brackets make positioning easy when the lifting clamp is in the horizontal position. The universal lifting eye permits lifting from every direction.
"The size of span that it [Modulift's CMOD 250] can reach is phenomenal, it really can be a huge frame…" – Jacques Vroegop, Safe Lifting Europe
Another special product is the 6-tonne capacity universal horizontal clamp (model IPHGUX1), which presents many of the same benefits to the end user and is ideal for rolling larger plates. This is a new high[1]tonnage addition to the universal horizontal lifting clamp range. The 70-tonne capacity pipe hook (model IPPH) has been designed for 5.7 m to 7 m diameter pipe, up to a thickness of 100 mm. It features soft steel replaceable inserts and is equipped with 40-tonne capacity G-2140 shackles. With both the universal horizontal clamp and pipe hook, other capacities and jaw-openings are available on request.
Under-the-jib load control
Crosby has invested into Verton as well. The company is one of two Australian developers of load orientation tools that have been adopted by lifting companies around the world.
Verton's system is branded Everest; fellow Australian company Tensa calls its system Roborigger.
Loads can easily start to rotate during lifting, potentially colliding with nearby obstacles; conversely, they must sometimes be rotated intentionally. Traditionally, this has been done by having a member of the lifting crew directing the load with a rope. It does not take much imagination to see how dangerous this job can be if the load is caught by the wind, or is dropped.
Verton's Everest and Tensa's Roborigger avoid the need for lifting crew to work near the load. Instead, the tools hang between the load and hook, with a remote precisely controlling the load's orientation.
Worldwide applications While these innovations were spurred in part by events in the Australian local market, they have clear worldwide application. Over the last year, both companies have been developing their international distribution.
Crosby's investment in Verton will allow the two companies to offer Everest orientation tools, and the specialist WindMaster blade orientation tool, around the world. The company also recently improved its local Australian distribution with an agreement with Brisbane's System Rigging. Another deal, with Rope and Sling Specialists (RSS) will see the products distributed in the UK.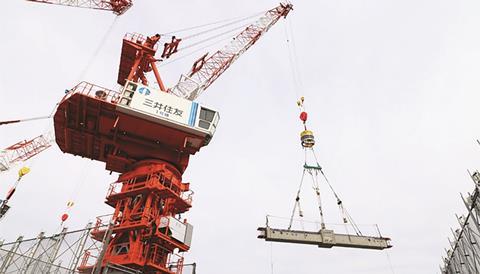 Roborigger has also been boosting its international distribution. The company recently entered into an agency partnership with Ludwig System, a manufacturer of radio controlled crane hooks based in Germany. The company will sell Roborigger in Austria, Germany, Switzerland and the Netherlands.
The deal goes beyond a mere distribution agreement. It will also see the development of new product configurations, combining Roborigger with Ludwig's remote controlled crane hooks. This combination offers the possibility of attaching, orientating and releasing the load, all controlled with a single remote from a safe location.
Roborigger had not, until 2021, had a dedicated manufacturing facility. That changed in July last year when Western Australia's minister for innovation, Don Punch, opened the company's new factory in Wangara. At the opening, Roborigger demonstrated new products and technology in development including a voice control system for Roborigger units and a novel data capture system that allows all load movements by Roboriggers anywhere in the world to be automatically recorded and accessible on the web.
It is hard to overstate the potential importance of tools like this in an industry which is moving rapidly beyond remote control towards autonomous operations. One example of where technologies like this might lead came from a recent Roborigger deployment in Japan, where the company is working with tower crane manufacturer IHI and local developer Sumitomo Mitsui Construction (SMCC) to develop an autonomous tower crane. The system is currently being used to lift, orientate and install pre-cast concrete elements on a project in Tokyo.
SMCC's cloud-based system brings in data from a wide range of sources, including Roborigger, BIM, and GNSS tracking of delivery location, along with RFID tag tracking of deliveries. On a job like this, finding the most efficient load path, and changing the load's orientation as it is lifted, requires a highly skilled operator. Labour and skill shortages can delay projects.
SMCC intends its system to work safely and efficiently, even without an operator.
Ocean motion
In most cases, lift planners must account for risks like load sway or rotations, and the effects of the wind. Generally, they do not have to plan for a crane being set up in such a way that it bounces wildly up and down as it works.
That is not the case offshore. There, the heaving motion of the ocean must be considered. In the oil and gas industry, purpose-built vessels and offshore cranes have been designed with active heave compensation (AHC) incorporated to counter this motion.
In offshore wind, contractors often use barge-mounted crawler cranes, particularly for jobs closer to the land. These cranes, and the barges they are mounted on, do not have in[1]built AHC. While heave may not be as much of a factor as it is for instance way out in North Sea oilfields, it can still be a problem.
Companies like Roborigger's parent Tensa offer below-the hook devices that can account for heave. In 2020, Tensa supplied one of its dynamic load reducers, a DLR100L, to contractor Austral Construction, for an 80-tonne barge-to[1]platform transfer in the Dampier Archipelago. Using the DLR increased the crane's lift capacity when subjected to vessel motion, and improved safety during the operation.
Offshore operations can require much more powerful load control. Seaqualize, based in the Netherlands, is developing below the hook heave compensation systems that could, it said, eventually be used on loads of 2,000-tonnes, allowing entire wind turbines to be lifted in one go, even in some of the most demanding sea conditions.
The company recently performed test lifts with Van Oord (which has also been an early partner of Verton). Seaqualize's 600-tonne capacity Delta 600 combines passive heave compensation, which keeps the load steady, as well as a smaller active system, which accounts for only 5 to 10 percent of the load, but allows for precise positioning. The company said this is much more efficient than a fully active system.
Offshore trials
During the offshore trials, the Delta600 lifted a test weight to and from the floating supply vessel REM Trader, using Van Oord's jack-up crane vessel Aeolus in both jacked and floating conditions.
These floating-to-floating and floating-to-fixed lifts were operational tests of typical challenges in the offshore wind industry: installing turbine components using a floating vessel, or picking up components from a floating supply vessel. Seaqualize pointed out the potential use of the system in the USA, where the Jones Act means that it may be most efficient to transfer European-built turbine components to local barges offshore.
Transferring the most delicate parts of a wind turbine offshore is new to the market, and such operations comprise demanding lifting conditions and a new set of tools.
Wouter Dirks, innovation manager at Van Oord, said: "The offshore tests showed that the unique technology in the Delta will enable controlled offshore lifts during challenging feeder barge operations"
Another provider of custom under-the-jib equipment is UK-based Britlift. It focuses on designing custom solutions, including its own modular beams and bars, as well as other equipment, and putting them together in complex configurations for its clients.
One recent customer was Vision Modular Systems (VMS), which used Britlift equipment for work on a 44-storey modular building in Croydon, UK. The selection of equipment used by VMS could handle all of the modules installed on site, while reducing the weight of the rigging system itself by half, compared with the lifting frame that the company had previously used; that in turn potentially allows the company to reduce the capacity of the cranes it uses.
Liam Botting, managing director of Britlift, said: "VMS recognised that it had to save rigging weight, so we designed and supplied it with something totally new.
Telescopic spreaders were not at all standard for this type of application but are now much more commonplace.
"Since then, we have won repeat orders from VMS and also provided additional services such as engineered rigging drawings to lift every module in their project. This involved over 40 different drawings created by our in-house technical team."