Christoph Bruns of Mund+Bruns GmbH defends the role and worth of the independent and neutral surveyor in the project cargo supply chain.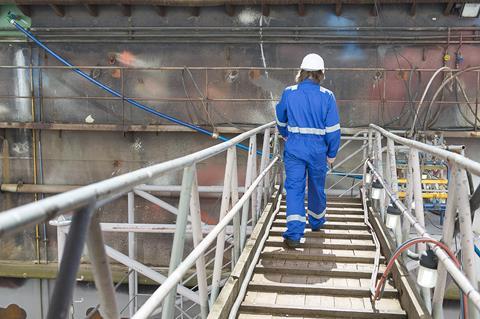 If you listen carefully to some of those involved in major international logistics projects, attendees at transport trade shows, or the corresponding discussions in social networks, you may come to the conclusion that heavy lift and project shipments are one of the easiest exercises of all.
Everyone can do it. Everyone has already shipped, transported, insured or lifted the largest box, the heaviest generator or the longest reactor.
At least, that is what the advertising and marketing strategies of many well-known logistics companies, shipping lines, freight forwarders, agencies and, last but not least, survey offices, suggest with glossy photos and professional video sequences.
What is behind these exciting promotional materials? It is often answered with buzzwords such as 'professionalism', 'planning' and 'detailed knowledge' that trip off the tongue of any advertising expert or salesman, however superficially competent.
Of course, every company is convinced that it can offer exactly this professionalism and expertise at an unbeatable freight rate or at a fixed price. It all appears so simple.
Besides, what are the surveyors doing in this apparently simple business?

Misconceptions
In the eyes of many companies involved in international project logistics, surveyors are simply overpaid photographers, paid pens and unbearable know-it-alls who solve problems that would not even arise without them.
It begs the question – why are control, monitoring and auditing bodies needed at all and who is appointing them?
To come straight to the point, surveyors can and will be appointed by all parties involved in a transport chain and are usually deployed at the critical interfaces. The appointing parties are traditionally transport insurers, manufacturers or recipients, but also shipping lines, carriers, charter companies, banks or port operators.
The complexity of this sector is such that the appointment of a neutral surveyor is paramount to a project's success. For example, the construction of a large industrial plant has been tendered internationally by the plant operator. In addition to a vast number of tools, steel constructions and accessories, as well as relevant system components with weights of up to 1,000 tonnes, measuring 100 m x 20 m x 30 m, must be delivered and installed.
The complexity of this sector is such that the appointment of a neutral surveyor is paramount to a project's success.

Christoph Bruns of Mund+Bruns GmbH
In order to create a meaningful offer, the participants of the tender must plan and evaluate not only the project financing, product engineering and construction, but also the transportation. For the over-dimensional components, only certain means of transport and lifting are suitable for maritime and road transport.
In addition to the pure technical specifications and project-related regulations, planning is influenced by national and international laws in the fields of engineering, occupational safety, insurance, quality and financing.
Without moving even a gram, and well before an order is placed, external neutral experts, surveyors and engineers from all parties involved are appointed to carry out transport route investigations, feasibility studies and risk analyses.
The entire pre-planning phase, with all of its intricacies, can take as long as five years. Political influences have not yet been considered.
If an order is placed for one of the suppliers to deliver and set up the described plant, the inspection and survey efforts are increased many times over. At this point, possible planning errors meet reality. The theory meets practice and a whole manner of conceivable commercial consequences and risks become apparent.
From the point of view of the executing hauliers, one could now make the very simple statement that the use of auditing bodies of any nature demonstrates a lack of confidence in its services.
These are personal emotions that have absolutely no relevance at this point. The goal is to minimise and exclude high financial risks, something that can only be achieved through the use of independent expertise at the relevant interfaces.
For a more detailed explanation, let us take a single example based on the project mentioned above.
To secure a heavy piece on a self-propelled modular transporter (SPMT), lashing chains with a specific securing force were calculated and thus described by the haulage company in its contractually agreed method statement.
When the component is actually secured to the SPMT, these have been replaced by the transport company for unknown reasons by wire ropes or nylon straps with the same securing force. The inspecting surveyor is now obliged to stop the entire transport in order to exclude any risks and immediately inform his client.
The main technical reason would be that steel ropes or nylon belts – in addition to their pure securing properties – have other technical properties, such as a longer stretch than lashing chains.
The procurement of the planned lashing chains in this example case takes two days. As a result, the transport arrives at the construction site two days later than scheduled. If this delay results in the failure to meet a contracted milestone, a penalty can be imposed that makes the value of lashing chains seem ridiculously high.
Risks versus costs
The surveyor on the ground should make a decision between the risks of cargo damage and the cost of delay.
In the case study with the lashing chains, it also becomes clear why the use of a surveyor with his or her neutrality, independence and professional competence, is of crucial importance.
Neutral in this context means that the surveyor must assess a problem or situation, regardless of commercial or political constraints. The resulting neutral reporting is then always available to the appointing party. The final handling of the results of the reporting is within the responsibility of the client.
Of course, the neutral recommendation of the surveyor is needed to determine how to proceed in the situation, and identify what alternatives are possible, in order to meet the main goal of a safe and timely transport from A to B.
Active loss prevention
An apt definition of the general services provided by a surveyor, in addition to the mere damage survey, is the term 'active loss prevention'.
However, active loss prevention is not only used for the transport of high-quality, oversized components as described above, but also for handling, storage and transport activities of goods of all kinds and quantities.
In order to cope with the sheer number of product combinations, means and types of transport, securing equipment and external influences, the digitisation of information and requirements is a proven and effective means.
However, the provision of critical information through electronic channels has enormous deficits with corresponding incalculable risks.
Planning, technical specifications, work and handling instructions for products and logistics processes can be lost on the communication path between the 'white collar' and the 'blue collar' workers. Sometimes, information is simplified to such an extent due to cultural differences, linguistic and fundamental mis- understandings, that they do not have the desired effect at all.
Of course, many of the information losses and appertaining consequences could be compensated by 'common sense' at the risky transport interfaces.
Unfortunately, this once-typical attitude in the transport industry seems to be dying out. This is where experienced experts and surveyors are appointed to make up for these deficits. Professional and independent surveying is not just a job, but a profession. It requires
many years of experience, composure, accuracy, professional competency , education, training, as well as unconditional commitment.
The extensive activities of a surveyor cannot be carried out incidentally. For this reason, the results of surveys that are offered as additional services by agencies and forwarding agents can actually only be described as those of an overpaid photographer.
In addition, it can be assumed here that independence and neutrality cannot be maintained with these services. Independent and neutral has to mean independent and neutral – that is a matter of fact.
The content of this article is intended to provide a general guide to the subject matter. Specialist advice should be sought about your specific circumstances.
This article is taken from HLPFI's September/October edition.