Collett & Sons has delivered two bridge sections as part of the North Yorkshire Moors Railway's Yorkshire's Magnificent Journey project in the UK.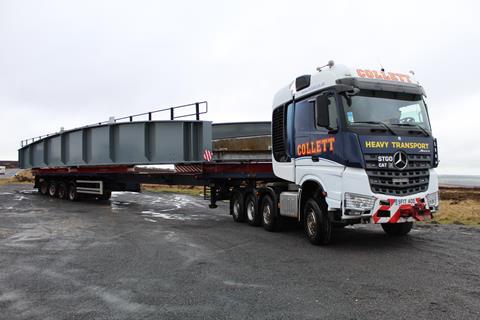 On behalf of Volkerlaser, Collett delivered the cargoes from Allerton Steel in Northallerton to BAW Coatings' facilities in Sheffield for coating and assembly, and then on to the construction site in Goathland. One bridge measured 25 m long and weighed 50 tonnes and the other measured 21 m and tipped the scales at 46 tonnes.
For the journey from Sheffield to Goathland, the bridge sections were loaded onto extendable rear steer flatbed heavy-duty trailers.
Due to the length of the cargoes, the Collett team had to perform intricate manoeuvres, first on exiting the coating facility, and again on arrival at the Goathland delivery site due to the narrow rural access.
Following the removal of the old bridges, each of the cargoes were lifted from Collett's trailers and installed over the Eller Beck ensuring that this section of the railway can continue to be used.