UK-based Ainscough Crane Hire has worked alongside Transport for London (TfL) and Nationwide Traffic Solutions (NTS) to remove a tower crane on Blackfriars Bridge in London.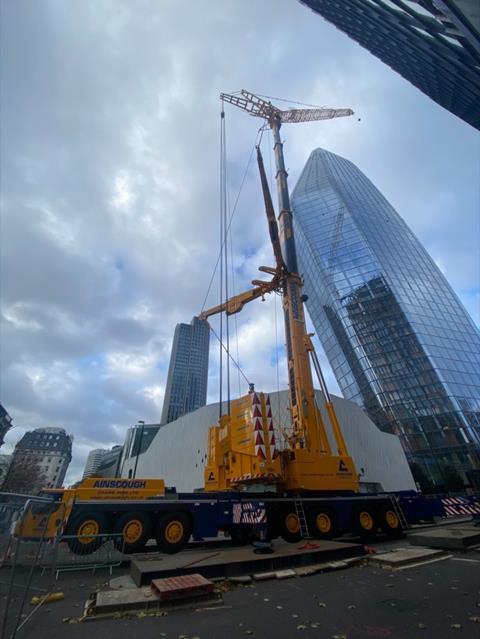 With the job taking place just metres from the main southeast railway line that passes through Blackfriars Station, it took around seven months to secure road closures to allow for the arrival of one of Ainscough's heavy cranes.
The 650-tonne capacity crane took up to 10 hours to rig, and it was the first time the team had used a 63 m luffing fly jib, 6.4 m main boom, and Y-guying.
Spanning across three traffic islands for up to 55 hours, the works saw the temporary removal of five traffic lights and two CCTV stands, as well as the addition of traffic marshals and fencing to create safe walkways for pedestrians.
In a separate project, Ainscough assembled a tunnel boring machine (TBM) on behalf of the Balfour Beatty VINCI joint venture for the HS2 project. A variety of heavy lifts at a radius of up to 22 m were needed to complete the assembly of the TBM cutter head. These included the 10.2 m-diameter cutter wheel at 150 tonnes, the tail skin at 107 tonnes, the main drive at 132 tonnes and the eight main body segments at 65 tonnes each.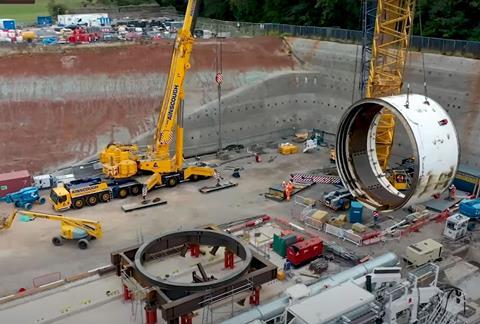 In order to complete the work a variety of cranes were utilised, including a CC2500 and LG1550 and assorted other cranes from Ainscough's Coventry and Birmingham depots.