Ainscough Crane Hire's Lancaster depot has worked with infrastructure and civil engineering firm Story Contracting to improve the safety of a railway line in Rotherham, UK, on behalf of its client Network Rail.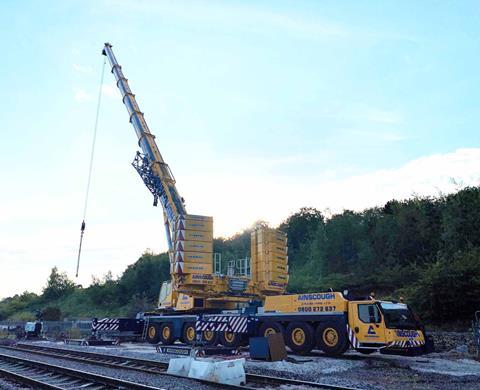 Ainscough Crane Hire was tasked with strengthening an existing culvert in Rotherham on the TJC3 line. The work involved using a 450-tonne capacity crane to remove the train tracks before installing new beams over the existing culvert. Ainscough then reinstated the train tracks.The work took three 12-hour shifts to complete.
Steven Armstrong, area sales manager at Ainscough Crane Hire, said: "Story Contracting is delivering vital work on behalf of Network Rail ensuring that railway lines across the country are better placed to allow safer and more efficient travel, and it was a great experience working with their team on this project in Rotherham.
"Working within quite a tight environment, our team was able to deliver the work required within the three separate shifts. The new, strengthened underbridge looks great and is a valuable addition to Story's work across the country's railway lines."
On behalf of Network Rail, Story Contracting has been delivering framework contracts covering geotechnical work on the London North Eastern railway route stretching from London to Scotland. It has been executing similar projects covering structures and property works on the south of the London North Western route, which is home to the West Coast Mainline – one of the busiest mixed-use railways in Europe.