Allelys has transported a 150-tonne reactor and a 195-tonne transformer in the UK.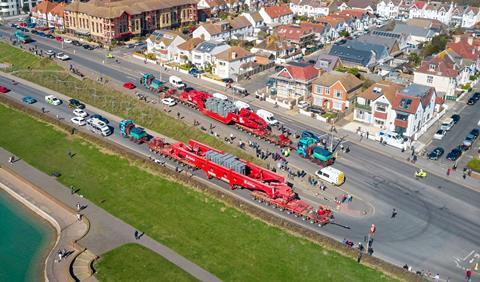 The eye-catching project involved two specialist girder frames deployed in convoy to move the units 40 miles (64.4 km) to Ninfield.
The project began in Stafford, where the girder frames were set up using a 55-tonne capacity crane. The reactor, measuring 10 m x 5 m x 5 m, was loaded using an overhead crane. The transformer was loaded on a separate combination the next day and measured 9.75 m x 4 m x 5 m.
The first stage of the road transportation was to Ellesmere port, where one of the units was transhipped onto a 10-axle SPMT using a 200-tonne lift and lock system. The SPMTs, carrying the transformer, and the girder frame, containing the reactor, were then loaded onto the Terra Marique vessel, operated by Robert Wynn & Sons. To decrease the ground loading pressure during the manoeuvre, Allelys utilised load spreading mats and stools.
The next stage involved the sea transportation to Shoreham port, where the reactor and transformer were rolled off and temporarily stored.
The final stage of transportation to Ninfield saw the two girder frames in action.

Once onsite, Allelys installed both units. The transformer was jacked up off the transport, jacked down onto skates and then skidded 25 m into position. The reactor was transhipped onto SPMTs, lifted by Allelys' 200-tonne lift and lock system and positioned.
"This operation was extremely complex right from the start, involving several transportation stages and requiring a lot of technical operations to negotiate obstacles and structures on route. From convoying two girder frames, travelling contraflow, removing central reservations and installing overbridges. There were many pinch points along the route that the transport team effectively managed. The level of engineering and planning involved was evident through the successful execution of the project," said Zac Smout, project manager at Allelys.