C.H. Robinson has moved eight refinery modules – with a combined weight of 548 tonnes – by barge.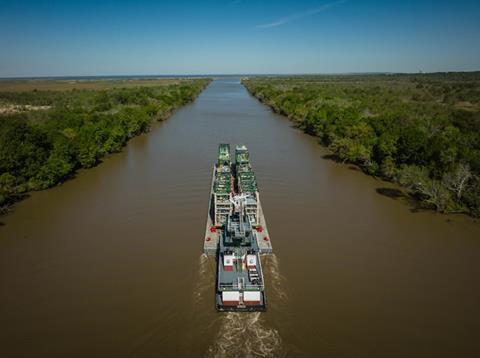 The units first needed to be transported one-by-one using SPMTs from the manufacturer in Oklahoma to a nearby wharf.
Before creating a transport plan, one of C.H. Robinson's specialists travelled to Oklahoma to meet up with the heavy lift transporter to assess the site, confirm dimensions, and do a survey of the low-water wharf. Once all the intelligence was gathered, the team put together a plan for loading and specialists returned to the site to monitor the operations.
"There were some concerns with the SPMT overheating due to the steep incline down to the wharf; however, the team was able to remedy the issue and loaded the first four components between 8 am and 7 pm," said C.H. Robinson.
The other four units were loaded the following day, but first the SPMT trailers needed to be extended to accommodate the larger size of the final four modules.
Once all the units were secured, the barge began the journey to the port of Houston. From there, the cargoes will be offloaded directly into a ship's hold for delivery to Mexico.
C.H. Robinson is a member of the Project Cargo Network (PCN).