During November 2020, Red Box Energy Services' vessel Audax delivered six large furnaces to the port of Beaumont, Texas, for ExxonMobil's refinery upgrade project.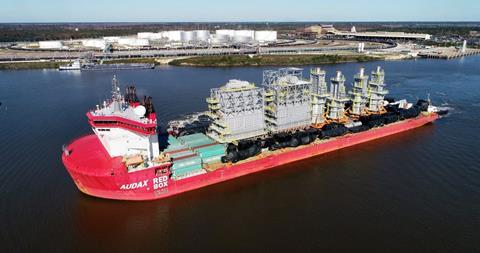 Large pieces of industrial equipment for the upgrade of ExxonMobil's Beaumont refinery began arriving at the port in May 2020. Once the cargoes passed through Customs they were loaded onto barges for transport via the Neches River, before being offloaded at a recently constructed ro-ro dock near the chemical plant. On land, the equipment is moved along the project's heavy haul road to the project site.
TechnipFMC was tasked with the engineering, procurement and construction scope of the project. It worked closely with international freight forwarder UTC Overseas in the course of the project. According to Terry Boles, ExxonMobil venture executive, the strategy of moving equipment via the Neches River minimises community impact. For this part of the project, engineered transport provider Mammoet is responsible for the barging, transport and setting of the components and modules.
By April 2021, the port will have handled nearly 25,000 tonnes of cargo for the project, including 16 process modules that will also arrive onboard Red Box vessels. These upcoming cargoes will be some of the largest the port has ever handled.