The port of Blyth in the UK has recorded its largest heavy lift to date – the movement of a 516-tonne floating tidal turbine.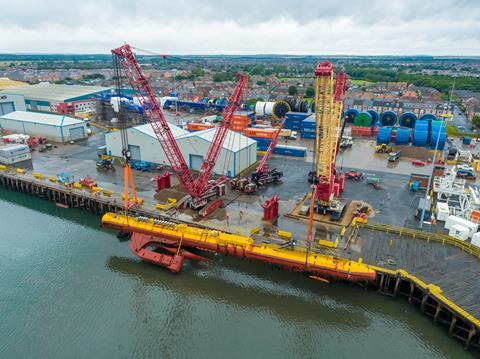 The Thompsons of Prudhoe and port of Blyth decommissioning partnership, in collaboration with Mammoet, completed the tandem operation using two crawler cranes. The 2 MW SR2000 turbine was lifted out of the water and onto the quayside on behalf of Orbital Marine Power.
Thompsons of Prudhoe has since commenced the dismantling and disposal of the turbine. Much of the structure will be broken down for recycling, with key components and elements of the prototype turbine being returned to Orbital. The returned components will be analysed and the data obtained will be used to support the development and construction of the new 2 MW O2 turbine that will be commissioned early next year.
Alan Todd, port director, said: "Completing the largest project lift the port has ever planned and executed highlights the skill and competence of the port of Blyth's engineering and operations teams. Although we have a wealth of experience in relation to heavy project lifts, the tidal turbine brought its own challenges and required exceptional planning and a well-coordinated operation."
This project comes hot on the heels of the joint GBP1 million (USD1.3 million) investment from port of Blyth and Thompsons of Prudhoe in enhancing the fully licensed decommissioning facility at the port, as HLPFI reported here.