Esprit Group has welcomed three ships bringing heavy and oversize cargoes via the Manchester Ship Canal at its Trafford Docks in Manchester, UK.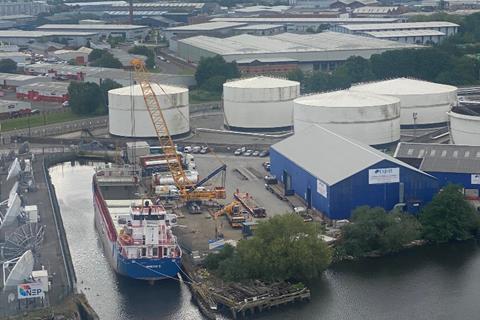 In late May, the general cargo vessel Hendrik S brought three 35-tonne silos from Rotterdam, the Netherlands.
The silos, manufactured in Germany, then travelled from Esprit's Trafford Docks to the Heineken factory in central Manchester. The three four-mile (6.4 km) journeys each took two hours with a police escort. Esprit said that tram lines had to be lifted by Transport for Greater Manchester (TfGM) and street furniture removed by Trafford Council, to allow safe passage.
In early June, Eems Transporter arrived in Manchester with a further four silos destined for the Heineken factory. Another three nights of police escorts and teamwork from Sarens, Finnie Heavy Haulage, GM Police, KeolisMetrolink, TfGM and Heineken, all under the management of Park Project Freight, saw everything delivered safely and on time without causing any traffic disruption, Esprit said.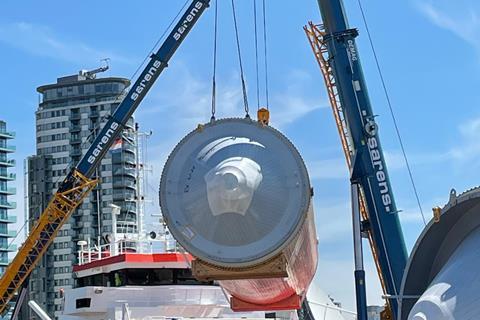 Following Eems Transporter's departure, Hendrik S returned to Esprit's Trafford Docks, this time carrying a 128.5-tonne electricity transformer.
The cargo started its journey in Croatia as part of a larger consignment of transformers and equipment aboard the Eems Servant. It was then transhipped onto the Hendrik S in Liverpool for the final leg up the Manchester Ship Canal to Trafford Park. Collett Heavy Haulage was contracted with project managing the big lift, using a 550-tonne strut-jib crane from Ainscough Crane Hire, and also oversaw the transport to a site in Rochdale.
Esprit said that had these oversized and overweight cargoes needed to travel to Manchester by road from a costal port, there would have been far greater disruption. Utilising the Manchester Ship Canal, which is owned by Peel Ports, avoided traffic congestion and also provided a greener alternative to road, added Esprit.
"It's vital we continue to use the Manchester Ship Canal as much as possible to ensure it remains open for freight," the company added.