In recent months, multipurpose carrier Chipolbrok has had an increased presence in the Scandinavian and Baltic regions, executing a number of projects transporting wind energy components.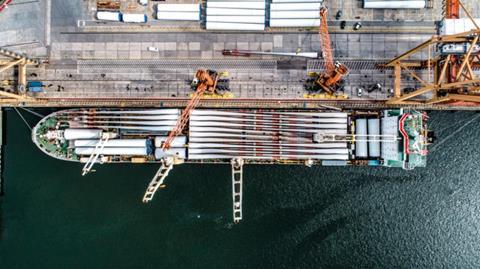 In July, Chipolbrok Galaxy called at Gdynia in Poland to deliver 60 wind turbine blades, measuring 62 m long, as well as nacelles, turbines and other equipment. Manufactured by Vestas, the components were transported from Dafeng, China, and will be used for onshore wind projects in Poland.
The multipurpose vessel went on to call at Uddevalla (Sweden), Klaipeda (Lithuania), and Rönnskär (Sweden).
The chartered vessel Chipol Baoan, meanwhile, called at the Danish port of Esbjerg recently to offload 14 sets of wind turbine towers that had originated from Taicang, China. The components are destined for the Frøya wind farm project off the coast of Norway.
According to Chipolbrok, there are further upcoming voyages to the Scandinavian and Baltic regions; at the end of the month, the multipurpose vessel Nowowiejsk will call at Uddevalla, Klaipeda and Riga (Latvia).
The carrier explained that there are a number of wind energy projects under construction in Poland – the majority of which are being developed in the northern part of the country, as well as in the Śląska region in the south.
Looking further ahead, the Polish government has decided to embark on green initiatives that aim to attract investors in offshore wind projects in the Baltic Sea. These projects, Chipolbrok explained, will include machines with a propeller diameter of up to 220 m and generators weighing up to 435 tonnes.
Aside from the wind energy developments in this region, Chipolbrok said that the multipurpose vessels Yu Chang and Kota Bintang – both chartered ships – as well as the Leopold Staff, are busy supporting ongoing projects in the Black Sea region. The vessels are delivering components to Constanta, Romania.