Collett & Sons has delivered 110 Enercon E92 turbine components, including 44.5 m-long blades, to the Craiggore wind farm project in County Derry, Northern Ireland.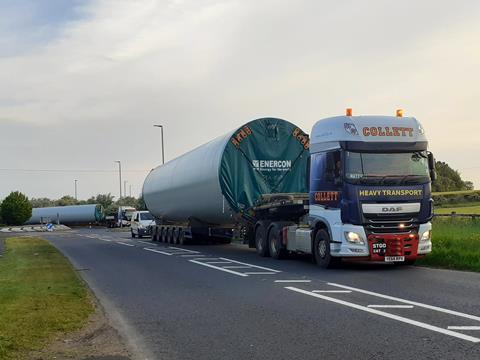 Collett began working on the project over a year before deliveries commenced – undertaking route surveys and swept path analysis to identify the most feasible route. It determined that for the blade transports, contraflow measures would need to be put in place at the Drumcroon roundabout and street furniture would need to be removed.
The company had to work with local authorities and provided a traffic management plan that identified areas that needed modification. With the route in place, Collett then conducted a test drive to ensure the blades could be delivered safely to site.
The cargoes were routed via the port of Lisahally (Londonderry) and were accompanied by Collett's pilot vehicles. They were delivered outside peak hours to limit congestion on the roads.
The blades were moved on Collett's three and four axle extendable blade trailers, while the 67-tonne generators on six-axle step-frame trailers. Each turbine comprised four tower sections, three of which were transported on step-frame trailers. The heaviest tower section – at 66 tonnes – were moved on modular trailers.