DEME Offshore has installed the final monopile in the Baltic Sea for Parkwind's Arcadis Ost 1 offshore wind farm.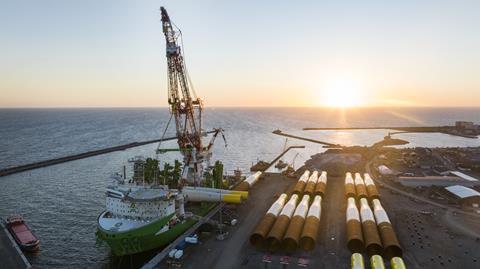 Each monopile weighed more than 2,000 tonnes, with a diameter of 9.5 m. They were installed by DEME's floating installation vessel Orion using its DP3 system.
Orion was running on LNG during the installation campaign. It is equipped with a 5,000-tonne crane and a motion compensated pile gripper system. DEME also deployed a range of specialist tools for Orion's maiden project, including an adjustable monopile sea fastening system, a newly built automated monopile lifting spreader beam to enable the horizontal lifting of the monopiles, automated quick-lifting tools to avoid manual handling on deck, as well as several new noise mitigation systems.