deugro has delivered 37 pipe spools across nine charter flights to support an urgent facility start-up in the USA.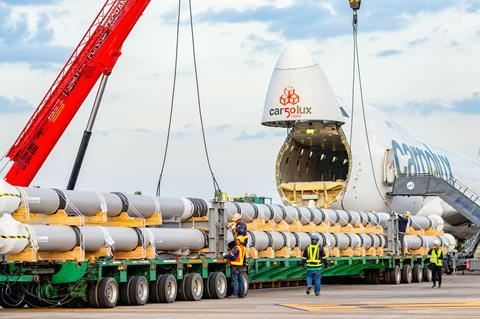 The urgent components, with a total weight of 213 tonnes and volume of 1,628 cu m, were transported from a production facility in eastern Thailand. deugro's scope included the multimodal door-to-door transport using various aircraft types and truck-trailer configurations.
Due to the strict schedule, deugro designed a complex air charter solution ensuring the shortest transit time, selecting airports of origin and destination as close as possible to the supplier and the plant site.
"With scarce capacities on the heavy lift air charter market caused by the war in the Ukraine, the biggest challenge was locating and securing aircraft that could not only be available at the right place at the right time, but which also allowed for loading the oversized equipment with extremely odd dimensions and complex shapes, with lengths of up to 36.6 m, widths of up to 5.5 m and heights of up to 4.4 m," said Pavel Kuznetsov, head of air chartering at deugro.
"At the same time, the cargo's requirements had to match the varying available aircraft types, loading equipment and airport capacities. For this purpose, deugro provided tailored packaging solutions, designed various safe and efficient loading concepts and sourced additional loading equipment."
The cargoes were transported from the Rayong Province to U-Tapao airport – requiring detailed road surveys, obstacle removals, organising the necessary permits as well as police escorts. From there, charter flights moved the components to George Bush Intercontinental Airport in Houston, Texas.
The transport from the airport to the facility saw truck and trailer configurations with total lengths of up to 45 m.