Dimerco has delivered three 3.5-tonne helicopters from Italy to Jarkarta, Indonesia.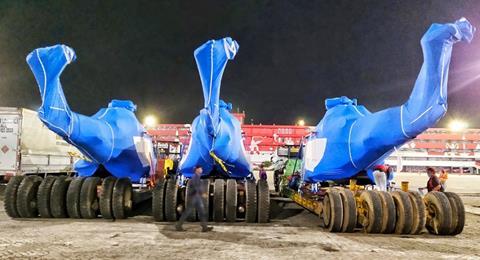 On behalf of a leading Italian manufacturer, Dimerco will deliver a total of 11 helicopters to the Indonesian government.
The first three units were shipped from Italy to the port of Tanjung Priok in Indonesia. There, Dimerco coordinated with trucking companies for the loading and unloading operations.
Two cranes, two forklifts, and three special dollies were deployed. Dimerco said it also arranged for a lashing company to make two customised wing boxes to ensure safe delivery.
"Our team studied the route extensively with the client, checking road condition from the port of Tanjun Priok to the final destination," added Dimerco.
"The consignment took five hours to be processed at the Indonesian port, three hours to deliver to the destination due to local restrictions and a further three hours to unload."
Dimerco added that it expects to handle the transport of the remaining helicopters over the coming months.