Engineered Rigging has supported contractor Bush and Burchett with the construction of the Pond Creek Bridge in Kentucky, USA.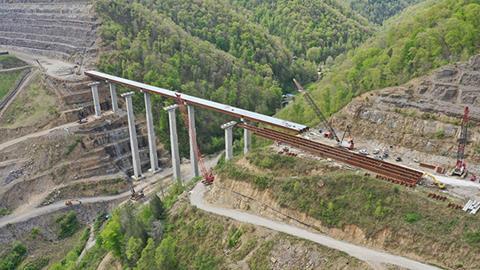 According to Engineered Rigging, once built, Pond Creek Bridge will become the tallest bridge in the Bluegrass State at 324 ft (98.8 m) and one of the tallest traffic bridges in the country.
Bush and Burchett determined the safest and most economical strategy was to build the steel bridge on the embankment and incrementally move the girders into position on the eight sets of piers. Engineered Rigging was tasked with this pulling the bridge into position using Hilman rollers.
The company explained: "Incremental bridge launching, which is popular in Europe but relatively uncommon in the USA, is ideal when a bridge is very high and access via traditional cranes is difficult or impractical.
"The pulling weight for the first pull was approximately 16,000 lbs (7.3 tonnes), and the bridge became heavier with each subsequent pull, the heaviest reaching 80,000 lbs (36.3 tonnes)."
 

Once the launching was complete, the bridge was lifted off the Hilman rollers to allow the bridge to sit on its bearings. This step of the bridge construction process used additional Engineered Rigging heavy lifting equipment rentals including one SFP421SJ split flow pump, hydraulic hoses, four LPL1602 locking pancake jacks, and four HCL1006 locknut cylinders.