USA-headquartered C.H. Robinson organised the delivery an oversize extractor weighing 79.4 tonnes from a domestic fabricator to the port of Houston.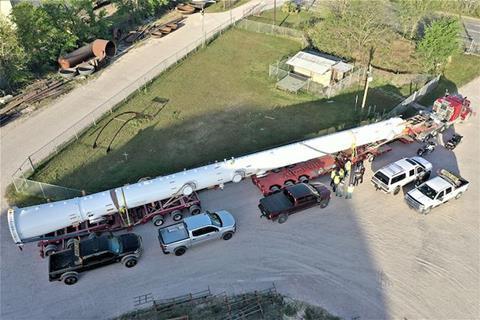 The extractor measured 35.9 m x 3 m x 3 m and it was first loaded onto an articulated trailer using a mobile gantry crane. Stakeholders then gathered for a safety and planning meeting before the truck departed.
Three police escorts stopped the traffic outside of the facility to allow the trailer combination to turn onto the road; a procedure that took 10 minutes as the trailer had to manoeuvre a couple times to avoid hopping the curb.
Travelling at speeds of 20-25 mph (32-40 km/h), the convoy of truck, three police motorcycles, and four service trucks, made the 24 mile (38.6 km) journey to the port in about one hour. The next day, the extractor was loaded from the trailer into the bottom hold, under deck, of a geared ship.
C.H. Robinson is a member of the Project Cargo Network (PCN).