UAE-headquartered Al Faris has executed a complex shipment in Iraq, moving 96 components for natural gas liquids plant in the country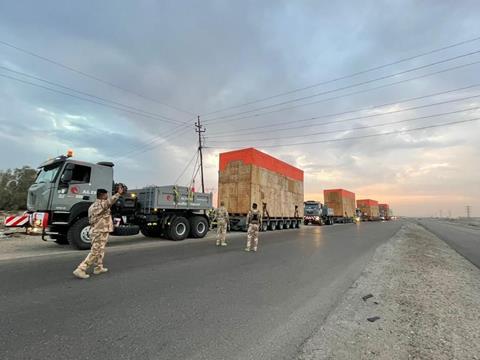 Al Faris deployed multiple convoys comprising its own prime movers and hydraulic heavy-duty trailers for the projects. The heaviest item tipped the scales at 150 tonnes (pictured).
The company's core markets include the UAE and Saudi Arabia. It opened a branch in Iraq one year ago and, led by Alberto Pittaluga, it has coordinated multiple heavy transport, heavy lifting and skidding jobs in the civil, oil and gas, and power generation sectors.
For instance, Al Faris transported and installed various components, including drums and flare stacks (25-78 tonnes) for an oilfield in West Qurna. "Our hydraulic trailers were used for the transportation and our Liebherr mobile cranes were used for the installation. The quick mobilisation of the cranes and competent skills of our engineers and site crew enabled us to optimise the overall project schedule thus attaining utmost customer satisfaction," said Pittaluga.
He added: "For Iraq we provide a strong commitment to the security of our personnel, equipment and cargoes we are working with. All our projects involve governmental security escort vehicles and local communities support 24/7."