Stevedores from Patriot Rail and Ports have loaded equipment for the US Army onboard the ro-ro carrier ARC Endurance at the Blount Island Marine Terminal in the port of Jacksonville (Jaxport).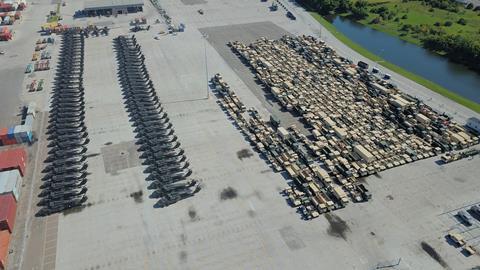 The shipment included UH-60 Black Hawk utility helicopters, AH-64 Apache attack helicopters, wheeled vehicles and containerised support equipment.
The pieces arrived at the Blount Island terminal from the military base in Fort Cambell, Kentucky via truck and rail. The equipment will be transported to Europe, where it will be used for a training mission.
"Jaxport is one of the nation's most diversified ports, and our ability to support the military is an important part of our diversification strategy," said Jaxport ceo Eric Green. The port is one of the USA's 17 strategic seaports on call to move US military cargo for national defence, foreign humanitarian aid and disaster relief.