Ainscough Crane Hire deployed its Liebherr LTM 1650-8.1 mobile crane for work on the Bletchley flyover in the UK.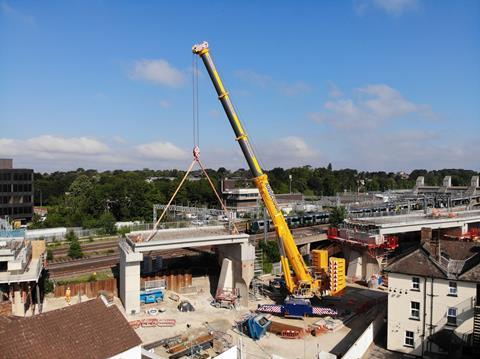 Ainscough took delivery of the mobile crane earlier this year, as HLPFI reported here.
Ainscough was appointed by Select Plant Hire on behalf of the East West Rail Alliance to lift beams weighing between 10 and 32 tonnes into place. Following a site visit earlier in the week, the work took place during several hours on a Saturday night. A 10-tonne pier was also installed.
Gareth Jones, Ainscough crane operator, said that 650-tonne capacity crane was configured with 175 tonnes of ballast on a 52 m main boom.
"It was absolutely the perfect crane for this job. The best thing about the new crane is it is better without being guyed than the LTM 1500-8.1 is when guyed," he added.
The LTM 1650-8.1 also incorporates VarioBase, which enables each outrigger to be extended to a different length. The integration of VarioBallast enables the crane to deliver maximum lifting capacities with a large ballast radius, making it perfect for use on constricted sites with a small ballast radius, Ainscough explained.