Mammoet has delivered gas turbines and other components from the port of Fujairah to the 2.4 GW Fujairah F3 power plant in Qidfa, 300 km north-east of Abu Dhabi in the UAE.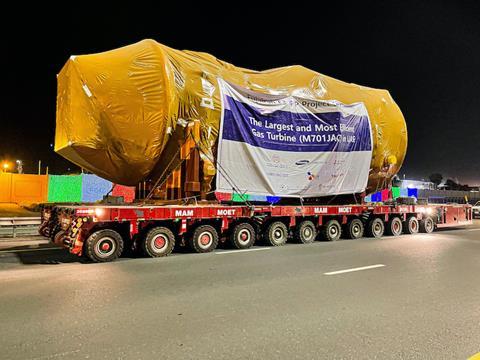 Awarded by Samsung C&T Corporation, Mammoet's contract scope included receiving the cargo, transportation, as well as the lifting and installation of power plant components.
Among the heaviest units transported were three gas turbines, each weighing 528 tonnes and measuring 13.6 m x 6.1 m x 6 m, and three gas turbine generators that measured 11 m x 5.8 m x 5.2 m and tipped the scales at 395 tonnes. In total, 106 components were transported to the power plant.
After extensive planning, and obtaining approvals and permits, the cargoes were transported by road avoiding inland mountains. Along the route an overhead bridge with a maximum clearance of 7.3 m meant that the gas turbines, which needed a clearance of 7.5 m, were loaded directly onto the trailers without the use of standard transport beams. This reduced the overall transport height by approximately 30 cm but meant the cargo could not be offloaded on stools for temporary storage and would need to be lifted off the trailers and installed directly upon arrival at the site.
Mammoet used its 1,250-tonne and two 400-tonne crawler cranes for the installation of other components, including 45 modules for a heat recovery steam generator (HRSG). Each module weighed 338 tonnes.
According to Mammoet, Fujairah F3, which is located between the existing Fujairah F1 and Fujairah F2 water and electricity plants, will be the largest independent combined-cycle power plant in the UAE.