Mammoet moved seven reactors from the port of Houston to an ethylene to alkylate plant located in Pasadena, Texas, on behalf of Noatum Project Cargo.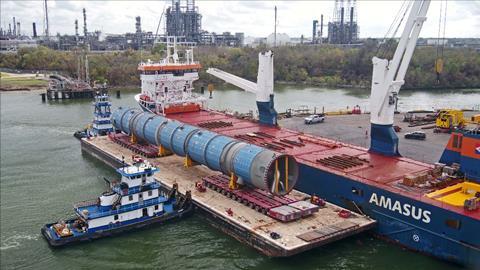 HLPFI reported that the move was completed in December 2021. The largest column measured 60.5 m x 6.5 m x 7.4 and tipped the scales at 440 tonnes. They were transported from the Spanish port of Algeciras.
During the planning process, Mammoet realised that the preferred bolstered load heavy-duty trailer configuration for road transport of the largest column would not be approved by the Texas Department of Transportation as it would overload two bridges along the route.
The standard solution for increasing the footprint of the trailers would be to add dollies that extend out from the sides of the trailers and push down to increase the trailer's overall footprint, spreading the load more evenly over a larger area. Unfortunately, the width of the bridges in question would not accommodate the addition of traditional dollies.

After thorough collaboration, Mammoet and Noatum's engineering teams proposed a solution to add a third trailer underneath the load at the belly of the vessel, which would expand the trailer footprint while not overloading the two bridges, and also not expand the width of the transport overall.
The use of Mammoet's split trailers would allow the traditional transport to travel without any additional equipment for most of the route. With the split trailers, the installation and removal of the additional trailer before and after the bridge section of the route can take place quickly.
Six smaller reactors were discharged from the ship directly to Mammoet trailers, and then transported over the road approximately 11 km to the project site.
The largest piece was offloaded from the ship by two heavy lifting barge cranes, Big John and Big T. The vessel was positioned on two double 12-line Goldhofer PST bolster trailers pre-staged on a waiting barge, floated to a nearby roll-off area, rolled off and then transported overnight to the project site to cause minimal impact on area traffic.