Hanover-based Nolte Auto-Krane mobilised two large Liebherr LG 1750 cranes to the ArcelorMittal steelworks in Eisenhüttenstadt to assist with a large gantry upgrade.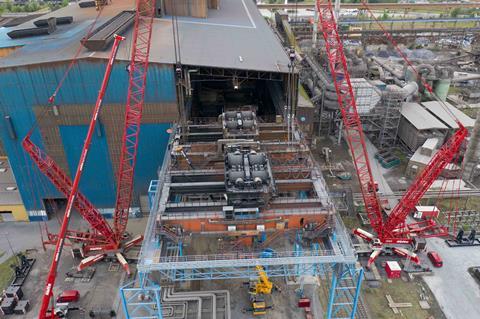 As part of an upgrade at the converter steelworks at the German-Polish border, a heavyweight modification had to be completed to a large gantry crane system.
The position of two cranes for transporting ladles, giant containers for annealing pig iron, had to be swapped as they had suffered different levels of wear.
Two LG 1750 cranes lattice boom mobile cranes from the company's fleet were used to handle the hoisting work. The cranes were each set up with a 70 m main boom and derrick boom, equipped with 460 and 470 tonnes of ballast and positioned on either side of the crane track, which was around 30 m off the floor.
The operator console and trolley system for the gantry crane had to be removed before the tandem hoist could be tackled. "The preparations on the gantry crane required a great deal more time than we thought," said Jürgen Peters, who planned the job for Nolte Auto-Krane at the steelworks, "but we nevertheless managed to complete the work during the scheduled converter downtime."
The LG 1750s hoisted one gantry crane out of its rails to a height of 10 m, while the other gantry was rolled underneath it to its new resting position. Changing the positions of the two gantry cranes will ensure that the whole system has a longer service life.