Jumbo Shipping, part of the Jumbo-SAL-Alliance, has transported fully assembled offshore platform modules on a single voyage on behalf of Kiewit Offshore Services.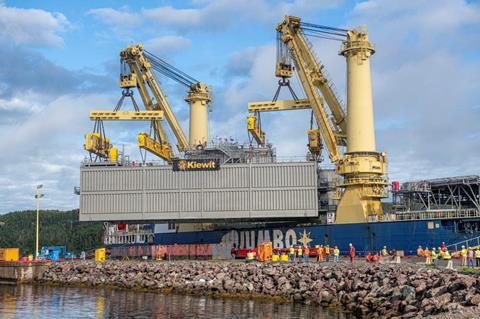 The modules included the living quarters module, helideck and flare boom. The cargoes were collected in Marystown, Canada, and shipped to Ingleside, Texas, USA.
The client was initially looking for a ro-ro or deck carrier to handle the shipment but the Jumbo engineering team devised a solution whereby all cargo could fit securely onboard its heavy lift vessel Jumbo Fairmaster. Some of the cargo was stowed below deck to protect it from the weather, while the loading was executed using the vessel's own 1,500-tonne capacity cranes to keep the shipment cost efficient.
In the lead-up to the project, the technical teams developed a complete logistics solution for the client including engineering, risk assessments, approvals, project management and logistics planning.
"The lifting of these modules in between the ship's two cranes safely was a difficult engineering challenge," said lead engineer, Mark Tetteroo-Pat, "but we know our vessels inside out and always manage to find the smartest solutions for these tight squeezes."
To accommodate the cargo, the crew extended the Fairmaster's deck with the use of the ship's tweendecks.
The Fairmaster and crew first loaded the flare boom weighing 145 tonnes and other project cargo items, securing them below deck in the hold. When the hatches were closed up, the crew lifted the bigger pieces. First, the helideck was loaded on the vessel's forward deck and then the 144 person living quarters module, weighing 1293 tonnes and measuring 53 m x 24 m x 18 m, was manoeuvred between the pedestals of both cranes. After loading the living quarters module, two additional items were loaded on the aft deck of the vessel.
Once the three large pieces and smaller ancillary equipment were all safely loaded on board, the crew set sail to Ingleside, Texas, where all the cargo items were carefully discharged.