When Portland General Electric (PGE) needed to remove 55,000-lb (25-tonne) transformer from one of Transformer Technologies' substations in Boring, Oregon, USA, they called upon machinery moving specialist Omega Morgan.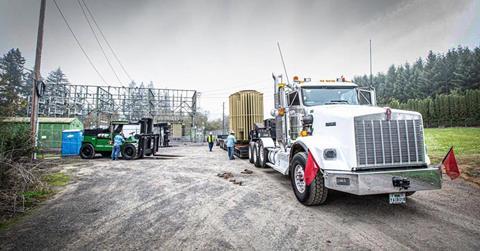 The substation was still live and was providing power through another transmission line. The transformer itself was also surrounded by live, high-voltage electrical lines. This meant using a crane impossible.
Omega Morgan deployed its Riggers 120 forklift for the job. The large capacity forklift has foam-filled tyres, which allowed it to travel under the load and along the large rock ground cover that was inside the substation – without it, steel plates would have needed to be brought in to create a travel path for hard-tyred forklifts, or a slow and costly jack-and-slide process would have been required.
With the Riggers 120 forklift, the transformer was removed without an outage on the other lines.